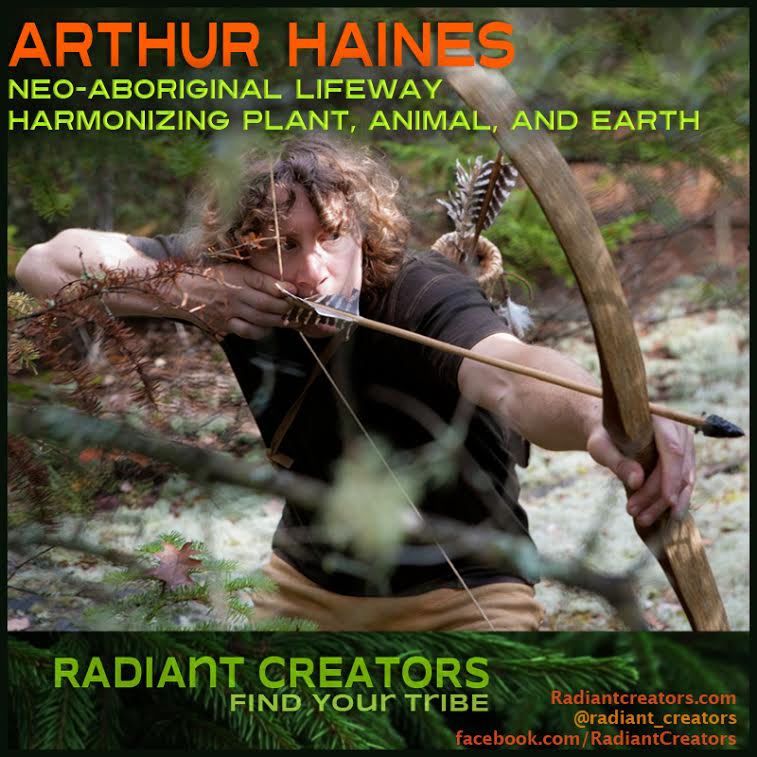 Arthur has a new book "A New Path: To Transcend the Great Forgetting Through Incorporating Ancestral Practices into Contemporary Living" and it is a must read for a deeper experience of life on every level.
[amazon_link asins='0999329502′ template='ProductCarousel' store='radiantcreato-20′ marketplace='US' link_id='394598bb-c96d-11e7-84e9-bdea78ab6327′]
Arthur Haines is a Botanist who founded the Delta Institute of Natural History in Canton, Maine. His passion for practicing and sharing a neoaboriginal lifeway has led him to teaching others about human ecology, the values of foraging, wildcrafting medicine, primitive living skills, and learning how to develop self-reliance and gain a greater understanding of eco-conscientiousness.
Arthur has published major textbooks, has named multiple new species and genera to science, and has helped construct websites that enable people to identify plants throughout the Northeastern U.S.
Helping people learn how to foster awareness, develop connection, better health and self-reliance through an understanding of ancestral and existing indigenous cultures are all aspects of Arthur's life mission.
"I believe we are at an important crossroads in our existence, one where domestication of the human species has led to an inability for most to nourish, heal, and care for themselves. This process has created profound blindness to the consequences of modern industry and the illnesses associated with nature disconnection. It is critically important to recognize that this point in history." ~ Arthur Haines
Interview – YouTube
https://youtu.be/3OtsCvazS_8
Interview – dtube
https://dtube.video/#!/v/radiantcreators/1demogqf
Interview – iTunes
https://itunes.apple.com/us/podcast/radiant-creators/id1252852387
Interview – MP3
Download complete show as an MP3 by right-clicking here and choosing "save as"
Interview – Dailymotion (Part 1 & 2)

Arthur Haines – Neo-Aboriginal Lifeway… by radiantcreators

Arthur Haines – Neo-Aboriginal Lifeway… by radiantcreators
Arthur Haines – Website
http://www.arthurhaines.com
Arthur Haines – Facebook
https://www.facebook.com/profile.php?id=100004466178122
Arthur Haines – YouTube
https://www.youtube.com/user/arthurdhaines
Arthur Haines – Twitter
https://twitter.com/NeoAboriginal
Inspiring Content by Arthur Haines
Arthur Haines new book "A New Path" is ESSENTIAL reading.
[amazon_link asins='0999329502′ template='ProductCarousel' store='radiantcreato-20′ marketplace='US' link_id='394598bb-c96d-11e7-84e9-bdea78ab6327′]
"A New Path is a clear and easily understood presentation of a meaningful and nature-connected future.  Be prepared for the paradigm shift, as the world feels different after just the first chapter." ~ Bremen James, farmer/father/forager
http://www.arthurhaines.com/anewpath/
ReWilding Fundamentals
http://www.arthurhaines.com/blog/2014/6/13/rewilding-fundamentals
Arthur Haines: The Benefits of Wild Foods, How to Wildcraft Medicine, & What Bear Tastes Like

ReWild 101 – Arthur Haines and Daniel Vitalis #125
http://www.danielvitalis.com/rewild-yourself-podcast/rewild-101-arthur-haines-and-daniel-vitalis-125
Podcast: Play in new window | Download