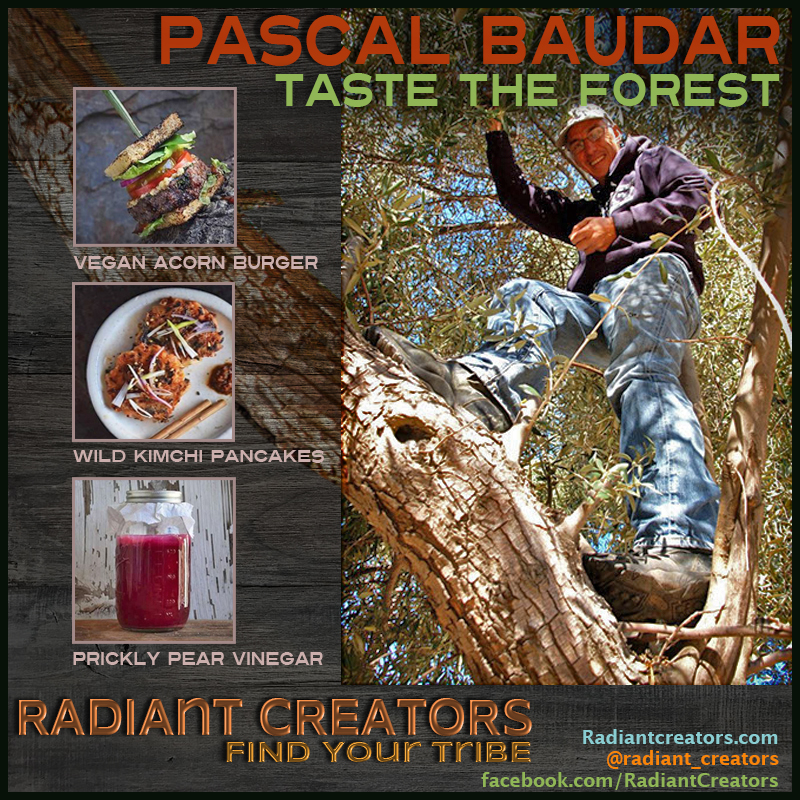 Biography http://www.urbanoutdoorskills.com/bio.html
Pascal Baudar is a writer, naturalist and a self-styled "culinary alchemist" based in Los Angeles.  His passion is to study wild edibles and research new culinary uses through ancient and traditional methods of food preservation as well as contemporary cooking techniques.
He has served as a wild food consultant for several TV shows including MasterChef and Top Chef Duels. He has been featured in numerous TV shows and publications, including Time magazine, the Los Angeles Times, L.A. Weekly, and the New York Times.
In 2014, he was named one of the 25 most influential tastemakers in L.A. by Los Angeles magazine and in 2017 as offering one of the most innovative culinary classes.
Pascal has written two books: The New Wildcrafted Cuisine and The Wildcrafting Brewer. Both books are Amazon bestsellers in several categories.
Focusing on writing and education, his next books projects are related to lacto-fermentation of wild edibles using local bacteria and another book about creating a cuisine around the most invasive plants in North America.
His philosophy is that conscious wildcrafting should be able to help the environment.
Pascal offers classes and workshops about traditional food preservation techniques including:
Primitive beers using local plants and wild yeast
Plants-based (Vegan) cheeses (including a recent Acorn Cheese)
Plants walks – learning about edible, medicinal and useful plants
His classes and workshops are not limited to California and have been offered in many other states (Arizona, Utah, Vermont, Washington, Oregon) and abroad (Belgium, France). Contact him if your institution is interested.
Books by Pascal Baudar
The New Wildcrafted Cuisine: Exploring the Exotic Gastronomy of Local Terroir Hardcover – March 24, 2016
The Wildcrafting Brewer: Creating Unique Drinks and Boozy Concoctions from Nature's Ingredients Paperback – February 12, 2018
Show Links
Interview – SoundCloud

Interview – BitChute
https://www.bitchute.com/video/B5zF2Oo74nqP/
Interview – YouTube
https://youtu.be/5OxEeOddllI
Interview – iTunes
https://itunes.apple.com/us/podcast/radiant-creators/id1252852387
Interview – iHeartRadio
https://www.iheart.com/podcast/966-Radiant-Creators-29418059/
Interview – Spreaker
https://www.spreaker.com/show/radiant-creators
Interview – MP3
Download complete show as an MP3 by right-clicking here and choosing "save as".
Pascal Baudar Social Media
Website
http://www.urbanoutdoorskills.com
Facebook
https://www.facebook.com/pascal.baudar
Instagram
https://www.instagram.com/pascalbaudar/?hl=en
Media Talked About During Interview
A New Path: To Transcend the Great Forgetting Through Incorporating Ancestral Practices into Contemporary Living Paperback – 2017
Follow Radiant Creators for more!
RC SoundCloud
RC Facebook
RC iTunes
RC Twitter
RC GAB
RC Instagram
RC Minds
RC BitChute
RC Linkedin
RC Google+
RC iHeartRADIO
RC Spreaker
Podcast: Play in new window | Download