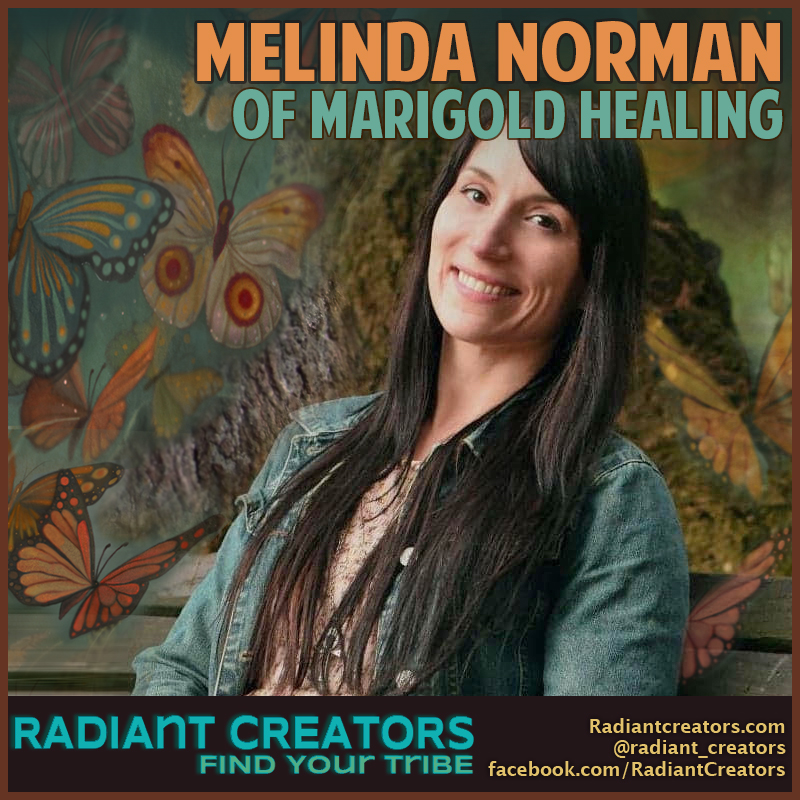 About Guest
Melinda Norman (Marigold Healing) is a licensed professional counselor and holds an MS in Counseling. She also holds a Reiki Master status which can be introduced as part of your work together. She also brings in elements of Shamanic work such as Past Life Regression and soul retrieval for those in alignment with those methods. Her office is in Beaverton, Oregon and Skype sessions are available. Her approach to therapy focuses on developing and strengthening your authentic self by recognizing and detaching from the use of your ego identity. Melinda will emphasize and teach the importance of archetypal shadow work, present moment living, and purifying your intent behind every action to reflect this authentic self. Through this process you will find that you experience a life of greater joy and freedom as you are no longer living within the limitations that have been created for you through a lifetime of societal indoctrination or experienced traumas. Her treatment focuses include:
Generational trauma
Divorce and break up transitions
Narcissistic abuse recovery
Abandonment and attachment
Highly sensitive children
Non religious spiritual development
Testimonial
"Marigold Healing is certainly not for everyone. The therapy that Ms. Norman offers has the distinct intention of coming to an end as soon as possible. She has the ability to see the issues you are dealing with or need to deal with, put you in the room with them and stand in the doorway to prevent you from running away until you face them, deal with them and put them to rest. It's very uncomfortable, very rapid and very effective. Rather than prolonging therapy and dragging the pain out for months or years; Melinda provides an environment and method that assists her clients with all the tools they need to step in the ring with that which is holding them back from their highest, most authentic self and walk out of the ring with the championship prize held high above their heads." -Daniel-
Show Links
Interview – SoundCloud

Interview – YouTube
https://youtu.be/lKhBzLRrz4A
Interview – BitChute
https://www.bitchute.com/video/cvyyeBXuLDwc
Interview – iTunes
https://itunes.apple.com/us/podcast/radiant-creators/id1252852387
Interview – iHeartRadio
https://www.iheart.com/podcast/966-Radiant-Creators-29418059/
Interview – Spreaker
https://www.spreaker.com/show/radiant-creators
Interview – MP3
Download complete show as an MP3 by right-clicking here and choosing "save as".
Content Mentioned During Interview
The Neverending Story (1984)
https://amzn.to/2Xa60Ix
Interview With Daniel Louis Crumpton – Author Philosopher Cannabis Activist
https://radiantcreators.com/2019/02/07/interview-with-daniel-louis-crumpton-author-philosopher-cannabis-activist
The cool glasses that Craig wears during interviews. 
GUNNAR Gaming and Computer Eyewear /Intercept, Amber Tint – Patented Lens, Reduce Digital Eye Strain, Block 65% of Harmful Blue Light
https://amzn.to/2OvqmbU
Guest Social Media
YouTube
https://www.youtube.com/channel/UCXqXRH2wio–DEmcIgFMiMA
Website
https://www.marigoldhealing.com
Facebook
https://www.facebook.com/marigoldhealingpdx
Twitter
https://twitter.com/marigoldhealing
Follow Radiant Creators for more!
RC SoundCloud
RC Facebook
RC iTunes
RC Twitter
RC GAB
RC Instagram
RC Minds
RC BitChute
RC Linkedin
RC Google+
RC iHeartRADIO
RC Spreaker
RC TuneIn
RC BitBacker
RC Spotify
Podcast: Play in new window | Download