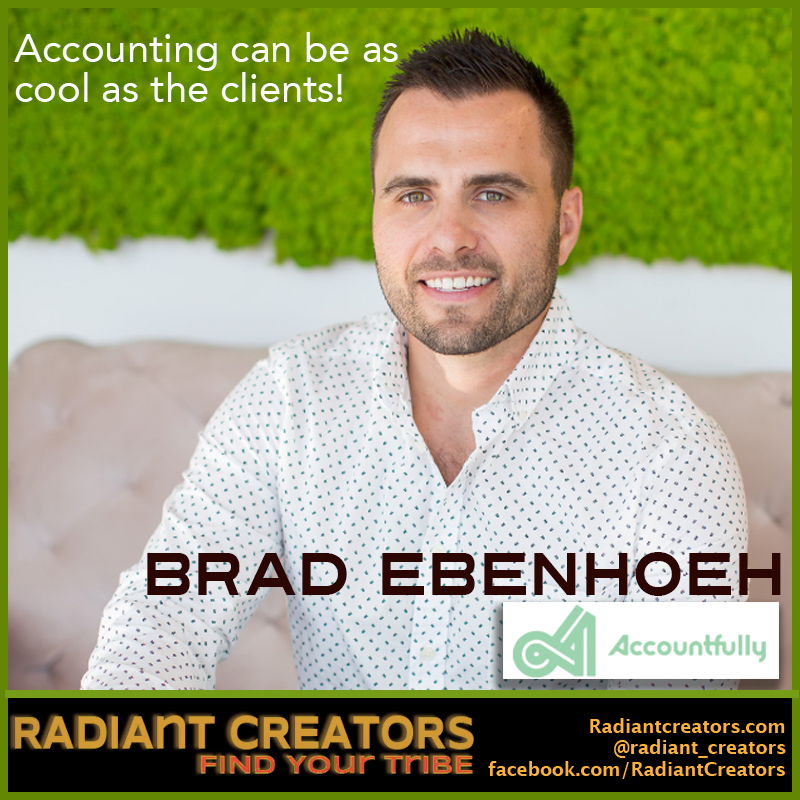 About Guest
Never one for suits and ties or long days in windowless offices, Brad Ebenhoeh abandoned the world of corporate accounting to found Accountfully, a modern outsourced accounting firm that serves modern brands and businesses. By challenging the traditional accounting firm model, embracing technology, and emphasizing the importance of a work-life balance for himself and his entire team, Brad has proven that with a little imagination and a lot of hard work, accounting can be as cool as the clients he partners with.
Show Links
Interview – SoundCloud
https://soundcloud.com/user-147099024/brad-ebenhoeh-accounting-can-be-as-cool-as-the-clients

Interview – YouTube
https://youtu.be/V5lJQ8sJWE0

Interview – BitChute
https://www.bitchute.com/video/QLaeaxrLJHm3
Interview – iTunes
https://itunes.apple.com/us/podcast/radiant-creators/id1252852387
Interview – MP3
Download complete show as an MP3 by right-clicking here and choosing "save as".
Guest Social Media
Website
www.accountfully.com
Radiant Creators Social Media
RC YouTube https://www.youtube.com/channel/UCOFOzbsnnBIhsIWPTnh6Dpg
RC SoundCloud https://soundcloud.com/user-147099024
RC Brighteon https://www.brighteon.com/channel/radiantcreators
RC Facebook https://www.facebook.com/RadiantCreators/
RC iTunes https://itunes.apple.com/us/podcast/radiant-creators/id1252852387
RC Twitter https://twitter.com/RadiantCreator
RC GAB https://gab.ai/radiantcreators
RC Instagram https://www.instagram.com/radiant_creators/
RC Minds https://www.minds.com/radiantcreators
RC BitChute https://www.bitchute.com/channel/tYQMEpPQs7qw/
RC Linkedin https://www.linkedin.com/company/18258547/
RC TuneIn https://tunein.com/podcasts/Media–Entertainment-Podcasts/Radiant-Creators-p1210163/
RC BitBacker https://bitbacker.io/user/radiantcreators/
RC Spotify https://podcasters.spotify.com/podcast/65S8KpqwvPh0b3cREbV9A0
Podcast: Play in new window | Download