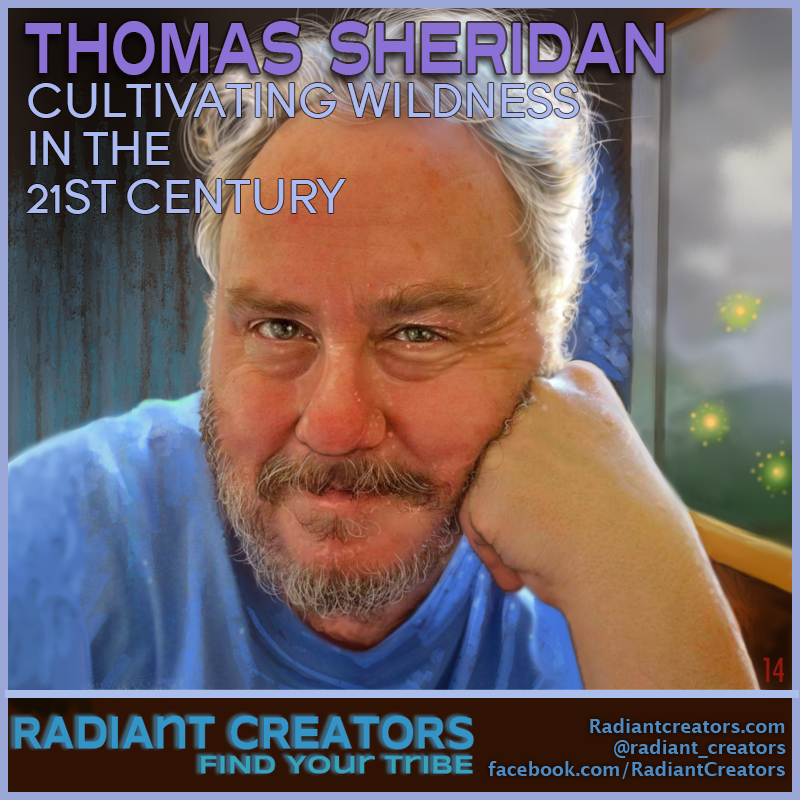 Thomas Sheridan is an author, artist and filmmaker from Dublin, Ireland who came to international recognition in 2011 with the book Puzzling People: the Labyrinth of the Psychopath. In the years since, he has written several more books, and has made films on topics such as social engineering, political and corporate pathology, and on to the occult foundations surrounding the emerging years of the Third Reich. In recent times, his work into ancient mysteries and locations has been featured in some of the world's largest media outlets, and he is a highly sought-after public speaker around the world. 
Thomas Sheridan Social Media
YouTube
Thomas Sheridan
https://www.youtube.com/user/ThomasSheridanArts/
OpenSourceOccultTV
https://www.youtube.com/channel/UCoJgaiSe0sxRDz42zr3KOjw
Beyond Room 313
https://www.youtube.com/channel/UCgRBoOKHFoIDJjtrle4IsGA/
Website
http://www.mossuponstones.com/
Show Links
SoundCloud
https://soundcloud.com/user-147099024/thomas-sheridan-cultivating-wildness-in-the-21st-century

Interview – YouTube
https://youtu.be/ppHrNxwNW-E

Interview – Brighteon
https://www.brighteon.com/39c4b683-2e33-4472-afb7-e300bed5580b
Interview – BitChute
https://www.bitchute.com/video/E1JhAvl947Wm
Interview – iTunes
https://itunes.apple.com/us/podcast/radiant-creators/id1252852387
Interview – MP3
Download complete show as an MP3 by right-clicking here and choosing "save as".
Items Referenced During Interview
Radiant Creators First Interview With Thomas Sheridan
Interview With Thomas Sheridan – You Are A Magician Not A Pawn
https://radiantcreators.com/2018/04/30/interview-with-thomas-sheridan-you-are-a-magician-not-a-pawn
2020 Psychic Weather Preview | Thomas Sheridan |

"To wait for a great awakening among the masses is an elegant form of suicide." – Thomas Sheridan 2018 (YouTube: Get off the Chessboard)
"Utopia is you spending your life surrounded by the people and things you love and embarking on a path of creation that makes your life and the world a little better" – Thomas Sheridan 2018 (YouTube: Get off the Chessboard)
Liber Providence – The Real Necronomicon – HP Lovecraft DOCUMENTARY | Thomas Sheridan |

From "The Culling of Wildness" Topic
Heilung | LIFA – Krigsgaldr LIVE
https://youtu.be/QRg_8NNPTD8
The Story of Iron John, by Robert Bly (Live recording of Bly telling the story)
https://youtu.be/QdqrvylYyvs
Iron John – 1 of 4 – 25th Anniversary Storytelling (Newer recording, and good)
https://youtu.be/ThsevaCfTnA
From "Left wing politics, Marxism and Socialism being consigned to the gutter, being very 20th century" Topic
7 NEW GUN CONTROL LAWS SIGNED IN WASHINGTON STATE
https://www.guns.com/news/2019/05/08/7-new-gun-control-laws-signed-in-washington-state
Radiant Creators Social Media
RC YouTube https://www.youtube.com/channel/UCOFOzbsnnBIhsIWPTnh6Dpg
RC SoundCloud https://soundcloud.com/user-147099024
RC Brighteon https://www.brighteon.com/channel/radiantcreators
RC Facebook https://www.facebook.com/RadiantCreators/
RC iTunes https://itunes.apple.com/us/podcast/radiant-creators/id1252852387
RC Twitter https://twitter.com/RadiantCreator
RC GAB https://gab.ai/radiantcreators
RC Instagram https://www.instagram.com/radiant_creators/
RC Minds https://www.minds.com/radiantcreators
RC BitChute https://www.bitchute.com/channel/tYQMEpPQs7qw/
RC Linkedin https://www.linkedin.com/company/18258547/
RC TuneIn https://tunein.com/podcasts/Media–Entertainment-Podcasts/Radiant-Creators-p1210163/
RC BitBacker https://bitbacker.io/user/radiantcreators/
RC Spotify https://podcasters.spotify.com/podcast/65S8KpqwvPh0b3cREbV9A0
Podcast: Play in new window | Download