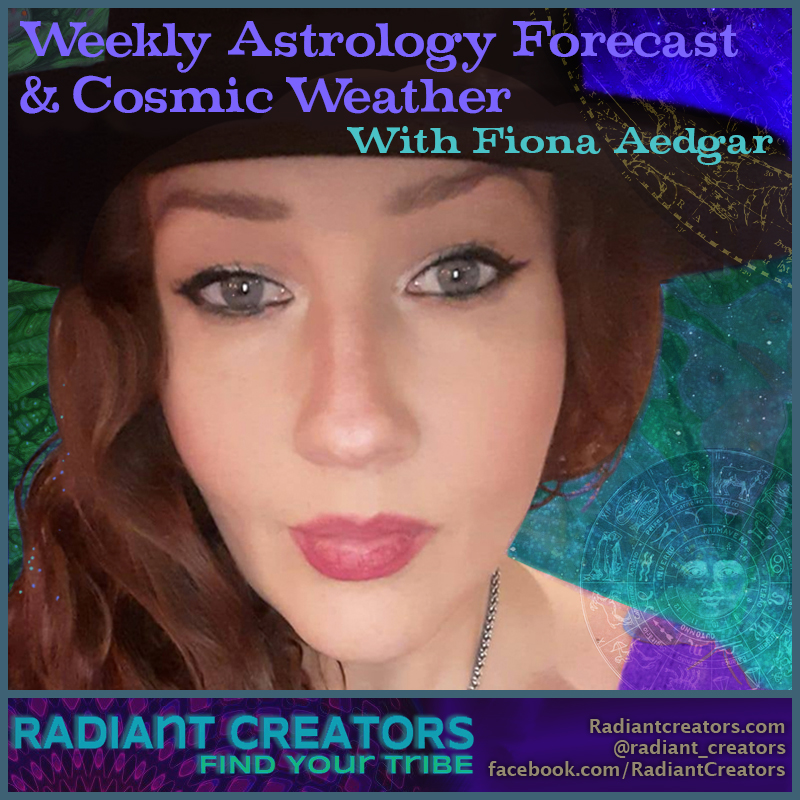 In this weekly show Fiona Aedgar talks about the stars in the week ahead with Craig Simpson of Radiant Creators. Also Cosmic Weather and current events are touched on.
Fiona Edgar is a karmic Astrologer and tarot reader from Northern Ireland. She is claircognizant and clairvoyant and has the ability to see past lives, including lifetimes spent on other planets.
She has studied Astrology and the Tarot for over 20 years and has been practicing professionally for five years.
Fiona is a seasoned occultist and a practitioner of Shamanism.
Show Links
Interview – YouTube
https://youtu.be/t292blBtSnA

Interview – SoundCloud
https://soundcloud.com/user-147099024/fortnightly-astrology-forecast-and-cosmic-weather-with-fiona-aedgar-7-24-2020
Interview – Brandnewtube
https://brandnewtube.com/v/A68Bks
Interview – BitChute
https://www.bitchute.com/video/r0vGOSbjApeK/
Interview -Brighteon
https://www.brighteon.com/ddfb7ba1-b984-4764-b8e4-97af11229a2f
Interview – iTunes
https://itunes.apple.com/us/podcast/radiant-creators/id1252852387
Interview – MP3
Download complete show as an MP3 by right-clicking here and choosing "save as".
Fiona Edgar Social Media
Website
https://fionaaedgar.com/
Facebook
https://www.facebook.com/ScorpioMoonAstro
Media Mentioned During Show
Follow Radiant Creators for more!
RC YouTube https://www.youtube.com/channel/UCOFOzbsnnBIhsIWPTnh6Dpg
RC SoundCloud https://soundcloud.com/user-147099024
RC Brighteon https://www.brighteon.com/channel/radiantcreators
RC Facebook https://www.facebook.com/RadiantCreators/
RC iTunes https://itunes.apple.com/us/podcast/radiant-creators/id1252852387
RC Twitter https://twitter.com/RadiantCreator
RC GAB https://gab.ai/radiantcreators
RC Instagram https://www.instagram.com/radiant_creators/
RC Minds https://www.minds.com/radiantcreators
RC BitChute https://www.bitchute.com/channel/tYQMEpPQs7qw/
RC Linkedin https://www.linkedin.com/company/18258547/
RC TuneIn https://tunein.com/podcasts/Media–Entertainment-Podcasts/Radiant-Creators-p1210163/
RC BitBacker https://bitbacker.io/user/radiantcreators/
RC Spotify https://podcasters.spotify.com/podcast/65S8KpqwvPh0b3cREbV9A0
Podcast: Play in new window | Download