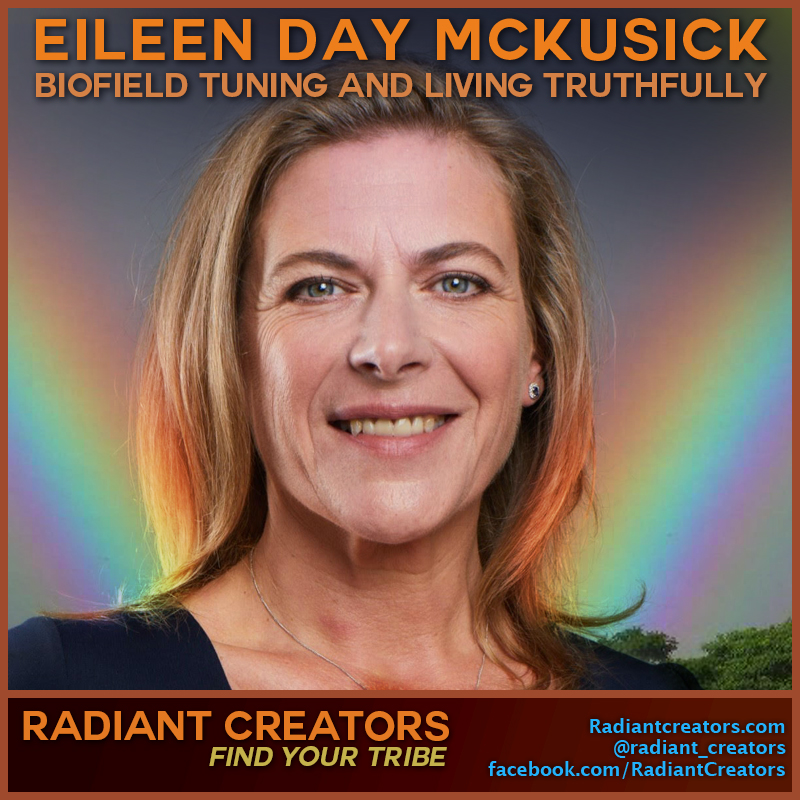 "Every disease is a musical problem; every cure is a musical solution" ~ Novalis

"There are no isolated islands in an electric universe" ~ Thunderbolts Of The Gods
Eileen Day McKusick Biography
Eileen Day McKusick is a pioneering researcher, writer, inventor, practitioner, educator and speaker in the fields of therapeutic sound, the human biofield and electric health. She has an MA in Integrative Education and has been studying the effects of sound on the human body and its electromagnetic system since 1996.
She is the originator of the sound therapy method Biofield Tuning (with over 2000 students trained worldwide since 2010), the founder of the Biofield Tuning Institute and author of the award winning, bestselling book "Tuning the Human Biofield: Healing with Vibrational Sound Therapy", as well as the upcoming book "Electric Body, Electric Health: Using the Electromagnetism Within (and Around) You to Rewire, Recharge, and Raise Your Voltage" due out with St. Martin's Press in January 2021. Source: https://www.biofieldtuning.com/founder
Show Links
Interview – YouTube
https://youtu.be/fTfzXLe9ktQ
Interview – Brandnewtube
https://brandnewtube.com/v/ouoihk

Interview – BitChute
https://www.bitchute.com/video/KXUe6POevfjp
Interview – Brighteon
https://www.brighteon.com/fca05e9d-d332-414c-933a-35d983987826
Interview – iTunes
https://itunes.apple.com/us/podcast/radiant-creators/id1252852387
Interview – MP3
Download complete show as an MP3 by right-clicking here and choosing "save as".
Social Media
Websites
https://www.biofieldtuning.com/
https://biofieldtuningstore.com/
Facebook
https://www.facebook.com/biofieldtuning/
YouTube
https://www.youtube.com/channel/UCMS3PjuHd2HaHMiQ91xq_KA
Instagram
https://www.instagram.com/biofieldtuning/
Media Mentioned During Interview
Sings the Body Electric
https://www.theseptemberissues.com/eileen-day-mckusick/
Cultivating photonic density for health and vitality
https://youtu.be/NVqaRGpq_gc
Ancestral Healing through Energenetic Repatterning with Eileen McKusick
https://youtu.be/zWtZSmKgqGo
Schumann Resonance (7.46 Hz)
https://www.disclosurenews.it/en/schumann-resonance-today-update/
Health from an Electrical Perspective
Raise your voltage by:
Sleeping 10-6
Earthing
Breathing deeply
Consciously receiving love and gratitude and attention
Hanging out with election donors, not electron stealers
Drinking clean, charged water (how do we make this?)
Eating Whole Foods (raw?)
Avoiding chemicals, especially chemical scents
Allowing your emotions to pass through rather than suppressing them
Spearing your truth, laughing often and crying as needed
Singing, toning or chanting regularly
Honoring your natural inclinations (Bashar "Follow your excitement")
Choosing AH over UGH
Radiant Creators Social Media
RC Parler https://parler.com/profile/RadiantCreators/posts
RC YouTube https://www.youtube.com/channel/UCOFOzbsnnBIhsIWPTnh6Dpg
RC SoundCloud https://soundcloud.com/user-147099024
RC Brighteon https://www.brighteon.com/channel/radiantcreators
RC Facebook https://www.facebook.com/RadiantCreators/
RC iTunes https://itunes.apple.com/us/podcast/radiant-creators/id1252852387
RC Twitter https://twitter.com/RadiantCreator
RC GAB https://gab.ai/radiantcreators
RC Instagram https://www.instagram.com/radiant_creators/
RC Minds https://www.minds.com/radiantcreators
RC BitChute https://www.bitchute.com/channel/tYQMEpPQs7qw/
RC Linkedin https://www.linkedin.com/company/18258547/
RC TuneIn https://tunein.com/podcasts/Media–Entertainment-Podcasts/Radiant-Creators-p1210163/
RC Spotify https://podcasters.spotify.com/podcast/65S8KpqwvPh0b3cREbV9A0
Podcast: Play in new window | Download