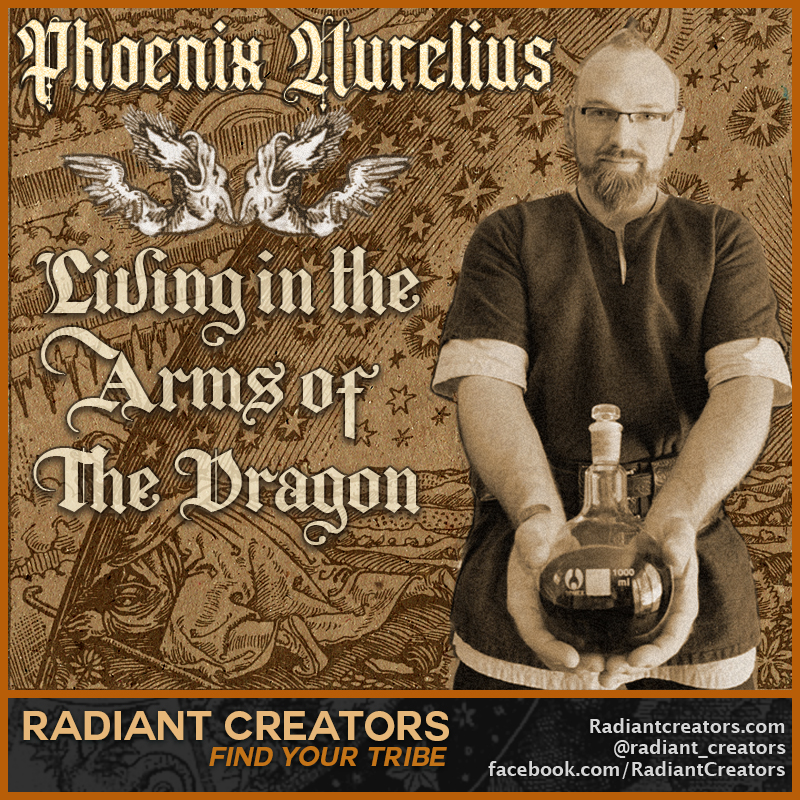 About Phoenix Aurelius
My personal mission is help integrate Alchemy into the Social Fabric of our Culture to Inspire Transformation and Conscious Evolution of both Ecology and Humanity. Complete about page: https://www.phoenixaurelius.org/about
Topics Covered During Interview
The magical experience of life through Alchemical awareness
The Alchemical renaissance is happening!
A deep dive into Egregors and how Many are giving themselves to Egregors
Creating our own Servitor – and following the example of Gandalf the White
Legolas: "Forgive me. I mistook you for Saruman."
Gandalf: "I am Saruman. Or rather Saruman as he should have been."
Avoiding the pitfalls of Tetris
Following the Volition of YOUR own Soul
Life is about you so Go Deep. The greater cycles are not your personal destiny
Show Links
Interview – YouTube
https://youtu.be/svD18HFdjsw

Interview – BitChute
https://www.bitchute.com/video/VGguEx1D25Bq
Interview – BrandNewTube
https://brandnewtube.com/v/eUT3j8
Interview – Brighteon
https://www.brighteon.com/8dc746cc-dcb0-4afc-8133-948107ae5976
Interview – iTunes
https://itunes.apple.com/us/podcast/radiant-creators/id1252852387
Interview – MP3
Download complete show as an MP3 by right-clicking here and choosing "save as".
Content Mentioned During Interview
The Complete Idiot's Guide to Alchemy: The Magic and Mystery of the Ancient Craft Revealed for Today (Complete Idiot's Guides (Lifestyle Paperback))
https://amzn.to/37RB6gG
The Complete Idiot's Guide to Alchemy: The Magic and Mystery of the Ancient Craft Revealed for Today Audible Logo Audible Audiobook – Unabridge
https://amzn.to/2GdogOg
Cultivating Spiritual Strength

"Those who continually try to make the volition of their soul manifest by putting themselves into current after current in an attempt to be able to achieve and manifest their intent" ~ Phoenix Aurelius

The Current
From men who stare at goats.

Lyn Cassady:
Your life is like a river. If you're aiming for a goal that isn't your destiny, you will always be swimming against the current. Young Gandhi wants to be a stock car racer? Not gonna happen. Little Anne Frank wants to be a high school teacher? Tough Anne. That's not your destiny. But you will go on to move the hearts and minds of millions. Find out what your destiny is and the river will carry you.
Homunculus – A homunculus is a representation of a small human being. Popularized in sixteenth-century alchemy and nineteenth-century fiction, it has historically referred to the creation of a miniature, fully formed human.
Legolas: "Forgive me. I mistook you for Saruman."
Gandalf: "I am Saruman. Or rather Saruman as he should have been."
Source: Lord of the Rings: The Two Towers
Guest Social Media
Website
https://www.phoenixaurelius.org
Teachable
https://phoenix-aurelius-research-academy.phoenixaurelius.com
Facebook
https://www.facebook.com/PhoenixAurelius
YouTube
https://www.youtube.com/channel/UC0qr4D7EGOknEgYNFzY66cA
Instagram
https://www.instagram.com/phoenixaurelius.alchemist
Radiant Creators Social Media
RC Parler https://parler.com/profile/RadiantCreators/posts
RC YouTube https://www.youtube.com/channel/UCOFOzbsnnBIhsIWPTnh6Dpg
RC Brighteon https://www.brighteon.com/channel/radiantcreators
RC Brighteon.Social https://brighteon.social/@radiantcreators
RC Facebook https://www.facebook.com/RadiantCreators/
RC iTunes https://itunes.apple.com/us/podcast/radiant-creators/id1252852387
RC GAB https://gab.ai/radiantcreators
RC Instagram https://www.instagram.com/radiant_creators/
RC Minds https://www.minds.com/radiantcreators
RC BitChute https://www.bitchute.com/channel/tYQMEpPQs7qw/
RC Linkedin https://www.linkedin.com/company/18258547/
RC TuneIn https://tunein.com/podcasts/Media–Entertainment-Podcasts/Radiant-Creators-p1210163/
RC Spotify https://podcasters.spotify.com/podcast/65S8KpqwvPh0b3cREbV9A0
Podcast: Play in new window | Download