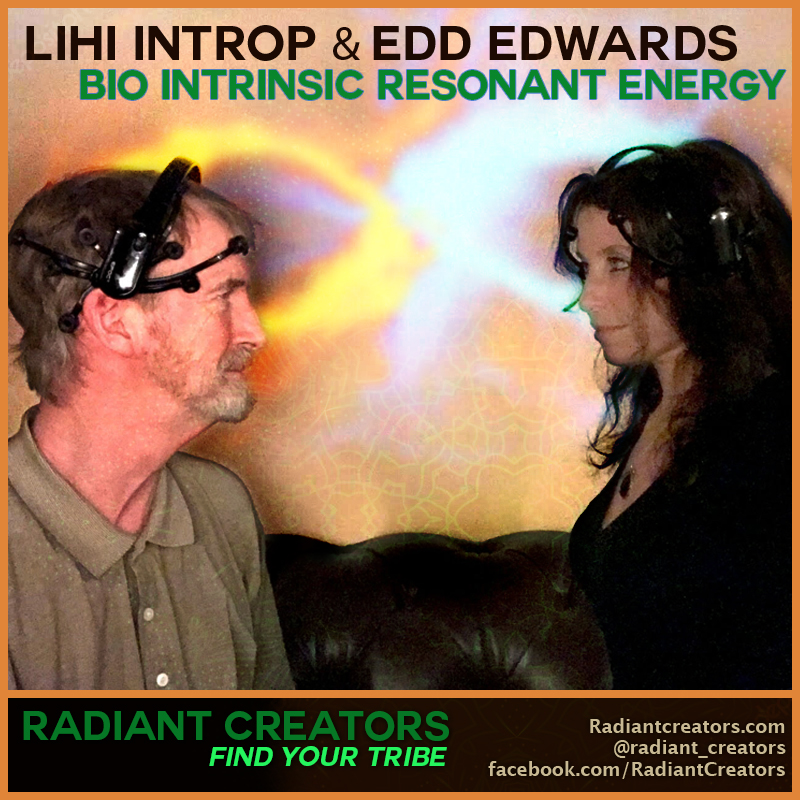 Bio Intrinsic Resonant Energy
Edd Edwards and Lihi Introp are leaders in the field of Bio Intrinsic Resonant Energy. As the catalyst for instantaneous healing and energy movement, Edd and Lihi desire to help others heal themselves.
Edds Bio https://lihi-and-edd.com/edds-bio/
Lihis Bio https://lihi-and-edd.com/lihis-bio/
Show Links
Interview – YouTube
https://youtu.be/1wi3-HSgUVM
Interview – Brighteon
https://www.brighteon.com/0bf80cf4-7e17-42e4-8ca4-4047b54ccee9
Interview – BrandNewTube
https://brandnewtube.com/v/6gZU2K
Interview – BitChute
https://www.bitchute.com/video/eI0mgEbdEnkB/
Interview – Rumble

Interview – LBRY
Interview – iTunes
https://itunes.apple.com/us/podcast/radiant-creators/id1252852387
Interview – MP3
Download complete show as an MP3 by right-clicking here and choosing "save as".
Media Mentioned
Ancient Aliens
https://www.history.com/shows/ancient-aliens/season-14/episode-16
S 14 E 16
The Alien Brain
Oct 11, 2019 | 42m 12s | TV-PG
Telepathy. Precognition. Psychokinesis. Is it possible that the human brain possesses extraordinary untapped abilities–given to us by extraterrestrial beings? Abilities that, once harnessed, will enable the next step in the evolution of humankind?
Bio – Intrinsic Resonant Energy with Edd Edwards and Lihi Introp
https://youtu.be/u0ViusQpEOc
Radiant Creators Interview with Edd Edwards, Bio Intrinsic Resonant Energy Master
https://radiantcreators.com/2017/06/26/radiant-creators-interview-with-edd-edwards-bio-intrinsic-resonant-energy-master
Guest Social Media
Websites
https://lihi-and-edd.com/
https://eddedwards.com/
Facebook
https://www.facebook.com/edd.edwards1
Twitter
https://twitter.com/EDDLEDWARDS
YouTube
https://www.youtube.com/user/MrEddEdwards
Radiant Creators Social Media
RC Parler https://parler.com/profile/RadiantCreators/posts
RC YouTube https://www.youtube.com/channel/UCOFOzbsnnBIhsIWPTnh6Dpg
RC SoundCloud https://soundcloud.com/user-147099024
RC Brighteon https://www.brighteon.com/channel/radiantcreators
RC Brighteon.Social https://brighteon.social/@radiantcreators
RC Rumble https://rumble.com/user/radiantcreators
RC Facebook https://www.facebook.com/RadiantCreators/
RC iTunes https://itunes.apple.com/us/podcast/radiant-creators/id1252852387
RC GAB https://gab.ai/radiantcreators
RC Instagram https://www.instagram.com/radiant_creators/
RC Minds https://www.minds.com/radiantcreators
RC BitChute https://www.bitchute.com/channel/tYQMEpPQs7qw/
RC Linkedin https://www.linkedin.com/company/18258547/
RC TuneIn https://tunein.com/podcasts/Media–Entertainment-Podcasts/Radiant-Creators-p1210163/
RC Spotify https://podcasters.spotify.com/podcast/65S8KpqwvPh0b3cREbV9A0
Podcast: Play in new window | Download