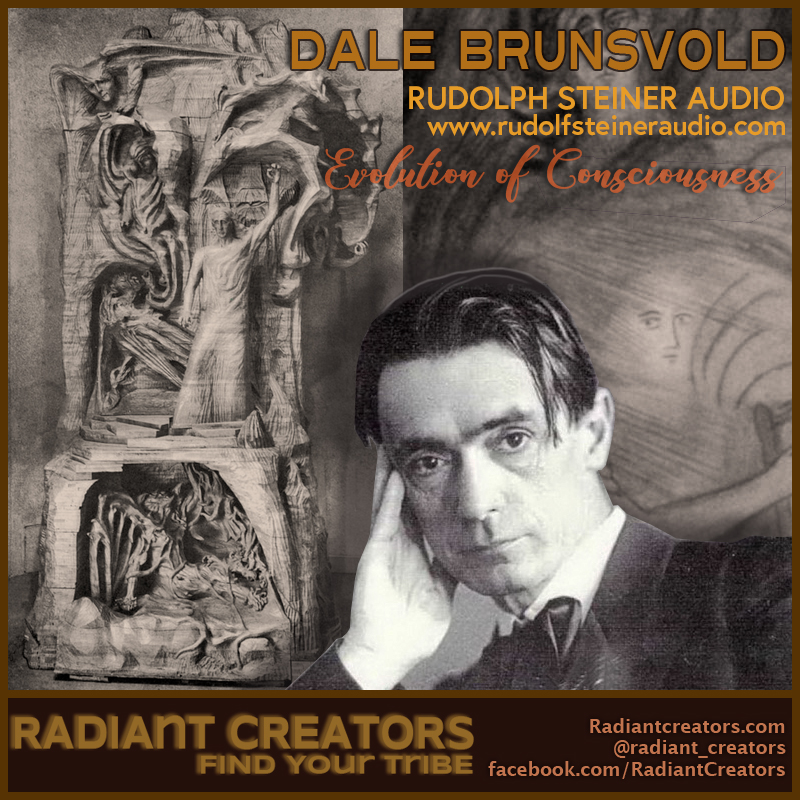 Two weeks or so before Rudolf Steiner's death (March 30th 1925), he wrote the following verse:
I want with cosmic spirit
To enthuse each human being
That a flame they may become
And fiery will unfold
The essence of their being.
The other ones, they strive
To take from cosmic waters
What will extinguish flames
And pour paralysis
Into all inner being.
O joy, when human being's flame
Is blazing, even when at rest.
O bitter pain, when the human thing
Is put in bonds, when it wants to stir.
Show Links
Interview Excerpts – YouTube
Dale Brunsvold – Rudolf Steiner Audio – The Four Bodies (Physical, Astral, Etheric, Ego)
https://youtu.be/m0dZSmPZtcQ
Rudolf Steiner – "The Representative of Man" – Polaric Tension between Ahriman, Lucifer and The Christ
https://youtu.be/fklg9t1RQWY
Dale Brunsvold – Rudolf Steiner Audio – 7 Year Rhythms Defined
https://youtu.be/JIDR-Iek8Bs
Dale Brunsvold – Rudolf Steiner Audio – The Evolution of Consciousness from Atlantis to Now
https://youtu.be/D2VQOtqf_60
Complete Interview – YouTube
https://youtu.be/9ss7xPB4w_Y

Interview – BitChute
https://www.bitchute.com/video/osmTkaLMTzj2
Interview – Brighteon
https://www.brighteon.com/c50b8001-1766-45be-b644-c6c7eaa22311
Interview – BrainNewTube
https://brandnewtube.com/v/scNSOw
Interview – iTunes
https://itunes.apple.com/us/podcast/radiant-creators/id1252852387
Interview – MP3
Download complete show as an MP3 by right-clicking here and choosing "save as".
Dale Brunsvold – Rudolf Steiner Audio Social Media
Website
http://rudolfsteineraudio.com
Media Mentioned During Show
Rudolf Steiner's statue titled "The Representative of Man" (Many Pictures)
https://www.rudolfsteinerweb.com/galleries/Steiner_Sculpture/index.html
Amazon
Rudolf Steiner: Scientist of the Invisible
https://amzn.to/2TOCVDF

Audio (Free)
Knowledge of the Higher Worlds, and its attainment
This is Craig's recommended start
http://rudolfsteineraudio.com/knowledgehigherworlds/knowledgeofhigherworlds.html
Rudolf Steiner – Bees
https://youtu.be/BaQh2b1UPx4
Intuitive Thinking As a Spiritual Path (The Philosophy of Freedom)
http://rudolfsteineraudio.com/POSA/posa.html
Intuitive Thinking As a Spiritual Path (The Philosophy of Freedom) By Rudolf Steiner
https://youtu.be/6CvZ5U-fNdY
Man's Life in Sleep and After Death By Rudolf Steiner
https://youtu.be/Ki6v3wSC3Is
How The Spiritual World Projects into Physical Existence by Rudolf Steiner
https://youtu.be/7qfuCBcB_bE
Physical Media By Rudolf Steiner
Sculpture by Rudolf Steiner
https://www.rudolfsteinerweb.com/galleries/Steiner_Sculpture/index.html
Rudolf Steiner and Art
https://www.rudolfsteinerweb.com/Rudolf_Steiner_and_Art.php
Radiant Creators Social Media
RC Parler https://parler.com/profile/RadiantCreators/posts
RC YouTube https://www.youtube.com/channel/UCOFOzbsnnBIhsIWPTnh6Dpg
RC SoundCloud https://soundcloud.com/user-147099024
RC Brighteon https://www.brighteon.com/channel/radiantcreators
RC Brighteon.Social https://brighteon.social/@radiantcreators
RC Rumble https://rumble.com/user/radiantcreators
RC Facebook https://www.facebook.com/RadiantCreators/
RC iTunes https://itunes.apple.com/us/podcast/radiant-creators/id1252852387
RC GAB https://gab.ai/radiantcreators
RC Instagram https://www.instagram.com/radiant_creators/
RC Minds https://www.minds.com/radiantcreators
RC BitChute https://www.bitchute.com/channel/tYQMEpPQs7qw/
RC Linkedin https://www.linkedin.com/company/18258547/
RC TuneIn https://tunein.com/podcasts/Media–Entertainment-Podcasts/Radiant-Creators-p1210163/
RC Spotify https://podcasters.spotify.com/podcast/65S8KpqwvPh0b3cREbV9A0
RC LBRY https://lbry.tv/@radiantcreators:f
Podcast: Play in new window | Download