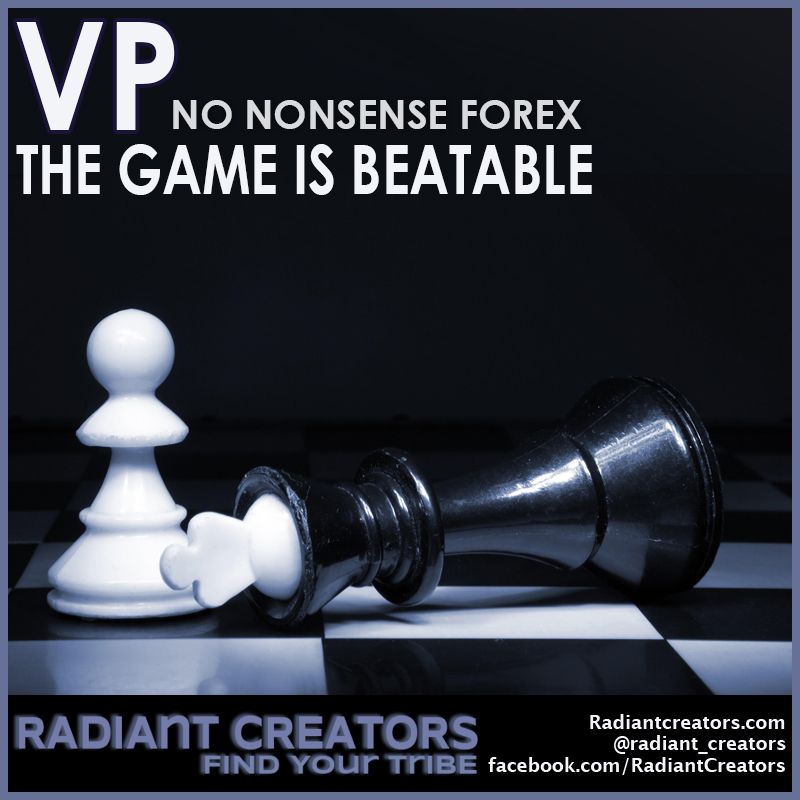 About Guest
A new book by VP
https://nononsenseforex.com/about
"most people are stuck because they don't know any other way, and even if they did, they've developed really bad habits that will take them down no matter how well they trade.
The only way out of this is a no-nonsense approach that tells you things nobody out there is saying, and shows you things nobody else is doing"
Update May 23 2019: This is a great review video by VP that gets "All The Teachings" into a high level go over in 30 minutes. VERY worth the watch (after listening to this amazing interview!).
Forex Review – How I Trade https://youtu.be/6NfU2OwuyTc
Show Links
Interview – YouTube
https://youtu.be/Jl-QVCnL21Y
Interview – BitChute
https://www.bitchute.com/video/snZoyTAXvHbi/
Interview – BrandNewTube
https://brandnewtube.com/v/4rIfs9
Interview – Brighteon
https://www.brighteon.com/86753219-7a70-484e-96cf-bc71c19ae63d
Interview – iTunes
https://itunes.apple.com/us/podcast/radiant-creators/id1252852387
Interview – MP3
Download complete show as an MP3 by right-clicking here and choosing "save as".
Content Mentioned During Interview
Trading Journal! Link below it s template
https://radiantcreators.com/table/Trading_Journal_VP.xls
The Best FX Trading Tip I have for 2019 (Crucial)
https://youtu.be/orESKrXu6BM
https://nononsenseforex.com/forex-basics/best-forex-trading-tips/
"Before doing anything else, eliminate all of the things that aren't working."
"So you want to be an Astronaut, but you also really love doing heroin well…"
BIG BANKS!
Best FX Trading Strategies (THE Top Strategy for 2019)
https://youtu.be/Lvq0t0eQOG4
Forex Trading Psychology – Patience (You Lack It)
https://youtu.be/arBtj85QYCU
The Fast-Track to the VP Method (Start Here)
Trading Forex For Beginners – The No Nonsense Forex Way
https://nononsenseforex.com/forex-basics/best-forex-trading-tips
Episodes 3-13 of the podcast
Core Concepts video's 2 through 6 on YouTube
Money Management Playlist
Trade Psychology Playlist
Technical Analysis Playlist
Guest Social Media
YouTube
https://www.youtube.com/channel/UCc8IRYpgBr4NGbaQFnd2b-A
Website
https://nononsenseforex.com/
Twitter
https://twitter.com/This_Is_VP4X
Radiant Creators Social Media
RC Parler https://parler.com/profile/RadiantCreators/posts
RC YouTube https://www.youtube.com/channel/UCOFOzbsnnBIhsIWPTnh6Dpg
RC SoundCloud https://soundcloud.com/user-147099024
RC Brighteon https://www.brighteon.com/channel/radiantcreators
RC Brighteon.Social https://brighteon.social/@radiantcreators
RC Facebook https://www.facebook.com/RadiantCreators/
RC iTunes https://itunes.apple.com/us/podcast/radiant-creators/id1252852387
RC Twitter https://twitter.com/RadiantCreator
RC GAB https://gab.ai/radiantcreators
RC Instagram https://www.instagram.com/radiant_creators/
RC Minds https://www.minds.com/radiantcreators
RC BitChute https://www.bitchute.com/channel/tYQMEpPQs7qw/
RC Linkedin https://www.linkedin.com/company/18258547/
RC TuneIn https://tunein.com/podcasts/Media–Entertainment-Podcasts/Radiant-Creators-p1210163/
RC Spotify https://podcasters.spotify.com/podcast/65S8KpqwvPh0b3cREbV9A0
Podcast: Play in new window | Download