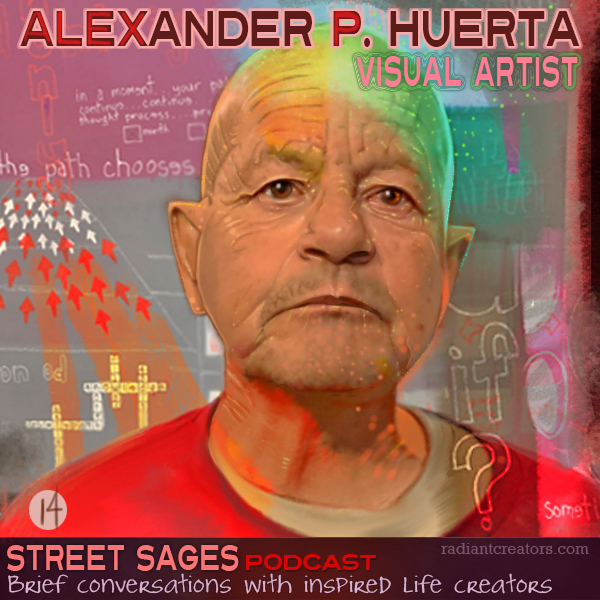 Street Sages
Shorter interviews recorded spontaneously during our travels are called "Street Sages – Brief Conversations With Inspired Life Creators".
About Guest
Alexander P. Huerta is a self-taught, mixed media, visual artist. Alexander started painting in 1996, after a trip to the art store. Alexander has more than 10 wall murals throughout the Las Vegas Arts District. Alexander has owned his art studio, PeaceNart Studio, Located at The "World Famous" Arts Factory, Since Oct. 2008. ~ Source: https://www.rawartists.org/peacenart
Show Links
Interview – SoundCloud

Interview – YouTube
https://youtu.be/w6SkB3Yq1T8
Interview – BitChute
https://www.bitchute.com/video/oqGdLy31YW5l
Interview – iTunes
https://itunes.apple.com/us/podcast/radiant-creators/id1252852387
Interview – iHeartRadio
https://www.iheart.com/podcast/966-Radiant-Creators-29418059/
Interview – Spreaker
https://www.spreaker.com/show/radiant-creators
Interview – MP3
Download complete show as an MP3 by right-clicking here and choosing "save as".
Guest Social Media
LinkedIn
https://www.linkedin.com/in/alexanderphuerta
Website
https://www.rawartists.org/peacenart
Facebook
https://www.facebook.com/alexander.p.huerta
Twitter
https://twitter.com/PeaceNartStudio
Instagram
https://www.instagram.com/peacenartstudio/
Follow Radiant Creators for more!
RC SoundCloud
RC Facebook
RC iTunes
RC Twitter
RC GAB
RC Instagram
RC Minds
RC BitChute
RC Linkedin
RC Google
RC TuneIn
RC BitBacker
RC Spotify
Podcast: Play in new window | Download