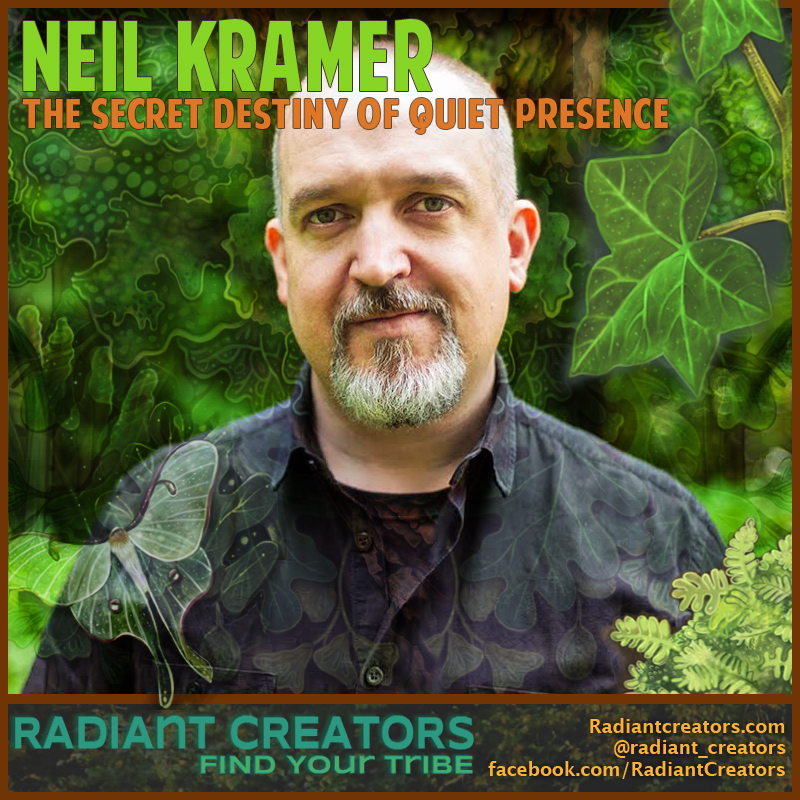 About Guest
Recent Post by Neil from January 22nd 2020
Extinction Or Graduation? 2020 The Year Ahead
https://neilkramer.com/extinction-or-graduation-2020-the-year-ahead/
Neil Kramer is a philosopher and teacher. His work focuses on spirituality, metaphysics, and theology.
Neil works with people to advance development through a deeper understanding of self, soul, equilibrium, divinity, and transformation. Neil teaches a spiritual method – the supernal path – which he cultivated over many years. He shares his ideas in speaking, writing, media, and teaching.
Source: https://neilkramer.com/about/
Show Links
Interview – SoundCloud
https://soundcloud.com/user-147099024/neil-kramer-the-secret-destiny-of-quiet-presence

Interview – YouTube
https://youtu.be/H5yw_mTmRMQ

Interview – BitChute
https://www.bitchute.com/video/aQlZ3XPzQ4Ao
Interview – Brighteon
https://www.brighteon.com/0514adf1-7d88-4ee9-a708-8ba9aca8daef
Interview – iTunes
https://itunes.apple.com/us/podcast/radiant-creators/id1252852387
Interview – MP3
Download complete show as an MP3 by right-clicking here and choosing "save as".
Media Mentioned During Show
Invisible Empire
https://neilkramer.com/invisible-empire/
The Unfoldment: The Organic Path to Clarity, Power, and Transformation ~ By Neil Kramer
https://amzn.to/2YDJdsU

The Secret Destiny of America
https://amzn.to/2SYFUr7

Nice reading on YouTube
The Secret Destiny of America by Manly P. Hall [Part 1 of 20]
https://youtu.be/kv4btLi8gLA
A Sand County Almanac 
 Audible Audiobook – Unabridged
https://amzn.to/2MAabv2

A Sand County Almanac: And Sketches Here and There (Outdoor Essays & Reflections) Paperback
https://amzn.to/2YGeNGk
The "greatest good for the greatest number" applies to the number within the womb of time, compared to which those now alive form but an insignificant fraction. Our duty to the whole, including the unborn generations, bids us restrain an unprincipled present-day minority from wasting the heritage of these unborn generations. The movement for the conservation of wild life and the larger movement for the conservation of all our natural resources are essentially democratic in spirit, purpose, and method. ~ Teddy Roosevelt
Mission Darkness Non-Window Faraday Bag for Phones – Device Shielding for Law Enforcement, Military, Executive Privacy, Travel & Data Security, Anti-Hacking & Anti-Tracking Assurance
https://amzn.to/2KVrTYE
Guest Social Media
Website
https://neilkramer.com
Facebook
https://www.facebook.com/beingneilkramer
Radiant Creators Social Media
RC SoundCloud https://soundcloud.com/user-147099024
RC Facebook https://www.facebook.com/RadiantCreators/
RC iTunes https://itunes.apple.com/us/podcast/radiant-creators/id1252852387
RC Twitter https://twitter.com/RadiantCreator
RC GAB https://gab.ai/radiantcreators
RC Instagram https://www.instagram.com/radiant_creators/
RC Minds https://www.minds.com/radiantcreators
RC BitChute https://www.bitchute.com/channel/tYQMEpPQs7qw/
RC Linkedin https://www.linkedin.com/company/18258547/
RC TuneIn https://tunein.com/podcasts/Media–Entertainment-Podcasts/Radiant-Creators-p1210163/
RC BitBacker https://bitbacker.io/user/radiantcreators/
RC Spotify https://podcasters.spotify.com/podcast/65S8KpqwvPh0b3cREbV9A0
Podcast: Play in new window | Download