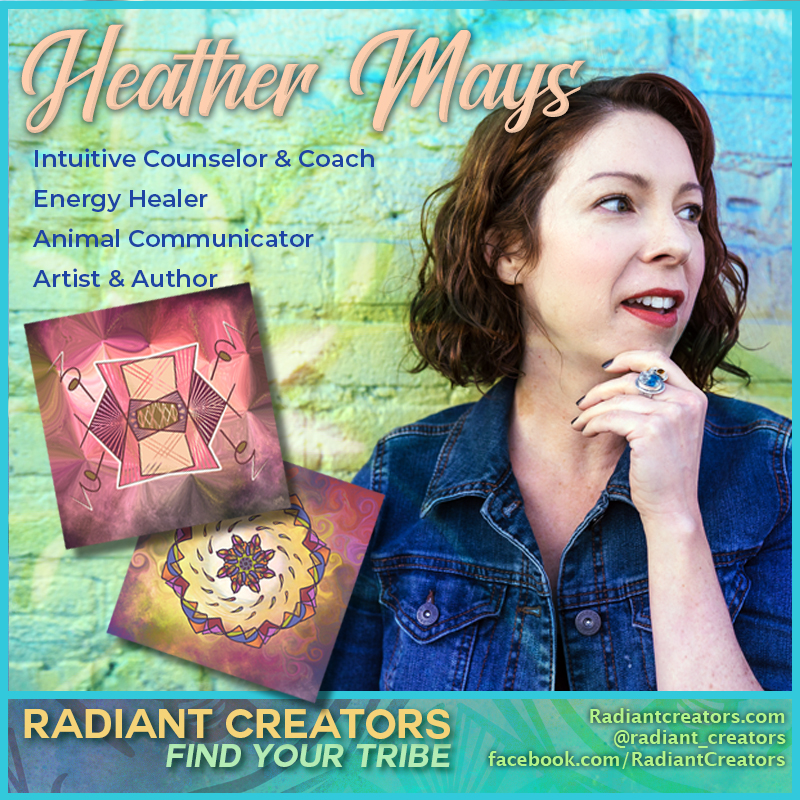 About Heather Mays
I'm Heather.  I'm an Intuitive Counselor, Animal Communicator,  Energy Healer for Pets and People, Channel, Author, Artist, Photographer, Teacher and Coach.  I'm the creator of the Soul Alche-ME and Quantum Radiance Resonance healing modalities and the AWARE Method for Conscious and Connected Living.
I adore autumn, hiking and daydreaming.  I love to crack jokes and I have a fondness for sarcasm.  Finding just the right meme or gif will send me to a level of giddiness that can only be rivaled by the sheer joy of impromptu car karaoke with songs from the 70's. I love almost any kind of breakfast food that exists and I am a professional-level napper.  Seriously, I'm super qualified with years of experience! Source: https://www.heathermays.com/site/about
Show Links
Interview – YouTube
https://youtu.be/vub4zseB1Zs

Rumble
https://rumble.com/vk6ex7-heather-mays-normalizing-intuition-and-ascension.html
Bitchute
https://www.bitchute.com/video/rfpoJm9RAcOV/
Brighteon
https://www.brighteon.com/bc5f6c08-701d-40bd-94d3-6b24452b707a
Interview – iTunes
https://itunes.apple.com/us/podcast/radiant-creators/id1252852387
Interview – MP3
Download complete show as an MP3 by right-clicking here and choosing "save as".
Heather Mays Social Media
Website
https://www.heathermays.com/
Facebook
https://www.facebook.com/heyradiantsouls
Instagram
https://www.instagram.com/heyradiantsouls
YouTube
https://www.youtube.com/channel/UCusJaKKqZZUXcKHhsz3No9Q
Radiant Creators Social Media
RC YouTube https://www.youtube.com/channel/UCOFOzbsnnBIhsIWPTnh6Dpg
RC Rumble https://rumble.com/user/radiantcreators
RC Odysee https://odysee.com/@Radiant_Creators:c
RC BitChute https://www.bitchute.com/channel/tYQMEpPQs7qw/
RC Brighteon https://www.brighteon.com/channel/radiantcreators
RC Brighteon.Social https://brighteon.social/@radiantcreators
RC iTunes https://itunes.apple.com/us/podcast/radiant-creators/id1252852387
RC GAB https://gab.ai/radiantcreators
RC Instagram https://www.instagram.com/radiant_creators/
RC Minds https://www.minds.com/radiantcreators
RC Linkedin https://www.linkedin.com/company/18258547/
RC TuneIn https://tunein.com/podcasts/Media–Entertainment-Podcasts/Radiant-Creators-p1210163/
RC Spotify https://podcasters.spotify.com/podcast/65S8KpqwvPh0b3cREbV9A0/overview
Podcast: Play in new window | Download