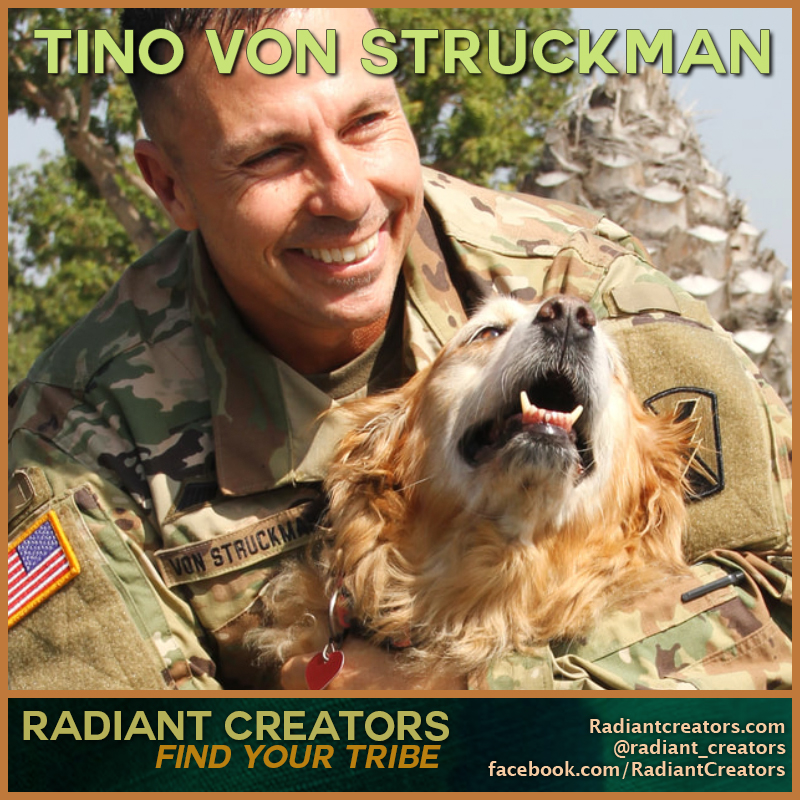 About Tino Von Struckmann
Actor – Writer – Producer – Director – Military Historian
Actor and military historian Tino Struckmann. Hosting shows about History, urban exploration, Action Films and a fun Travel Show. Tino is a military veteran and writes military history. You may have seen him on CSI E-Ring, Crossing Jordan, Timeless, Fury and currently he is acting on Colony.  Here he hosts a recurring Military History Q/A, where you can send in your questions. Tino travels the world to film History documentaries and exploration videos just for YOU – and  when possible hosts MY ROAD, the coolest show on earth about Travel, Food Bikes and Cars.
Tino writes and speaks about women's safety and talks about these issues in some of the serious videos you might find here too.
Tino also wrote a book available on Amazon on this topic, "Stalked, What You Can Do About It"
More: http://www.tinostruckmann.com/who-is-he.html
Show Links
YouTube – Tino Von Struckmann – "Hop The Dam Fence!"
https://youtu.be/TICeIy4RosA

Rumble
https://rumble.com/vmjxfa-tino-von-struckmann-hop-the-dam-fence.html
Odysee
https://odysee.com/@Radiant_Creators:c/Tino-Von-Struckmann—_Hop-The-Dam-Fence!_:6?r=Het2Fyj8q3RttXMbb3gLFrGMxCd52UHb
Bitchute
https://www.bitchute.com/video/JFtMqe0amTts/
Brighteon
https://www.brighteon.com/0ee23fd2-d9c8-4571-9371-e3c87bb316bc
Interview – iTunes
https://itunes.apple.com/us/podcast/radiant-creators/id1252852387
Interview – MP3
Download complete show as an MP3 by right-clicking here and choosing "save as".
Tino Von Struckmann Social Media
Website
http://www.tinostruckmann.com/
http://lostbattlefields.com/index.html
YouTube
https://www.youtube.com/c/tinostruckmann
Media Mentioned During Show
Robert Young Pelton – The Mindset Of An Adventurist
"We are losing the love of risk, we are letting fear prevent us from being great" ~ RYP
"Never confuse what you are afraid of, with what can kill you" ~ RYP
"If you fear failure you've already lost" ~ RYP
https://youtu.be/JbhZDb1sDiQ
"I am breaking all my own rules, but I want to see what's in there" ~ Tino
THE LAST NAZI SECRET -THE HENGE – CONNECTIONS EP 7
https://youtu.be/8MGbariq1RE
There is no work life balance. Find something that gives your life purpose to work on.
https://twitter.com/cz_binance/status/1427663150019534850?s=20
The Fog Of War
https://youtu.be/nU1bzm-BW0o
https://en.wikipedia.org/wiki/The_Fog_of_War
Luftwaffe over America: The Secret Plans to Bomb the United States in World War II Hardcover – February 19, 2006
https://amzn.to/3tGPjWF

D DAY Through German Eyes – The Hidden Story of June 6th 1944 Paperback
https://amzn.to/3hvPJu7
D DAY Through German Eyes: The Hidden Story of June 6th 1944
Audible
https://amzn.to/3nAIMfd
D Day Through German Eyes Book 2: More Hidden Stories from June 6th 1944
Audible
https://amzn.to/3zk7Pp6
The Outlaws
Audible (Amazing journal of Freikorps soldier)
https://amzn.to/3nBLdxO
The Outlaws Paperback – Paperback
https://amzn.to/3nENXKW

Radiant Creators Social Media
RC YouTube https://www.youtube.com/channel/UCOFOzbsnnBIhsIWPTnh6Dpg
RC Rumble https://rumble.com/user/radiantcreators
RC Odysee https://odysee.com/@Radiant_Creators:c
RC BitChute https://www.bitchute.com/channel/tYQMEpPQs7qw/
RC Brighteon https://www.brighteon.com/channel/radiantcreators
RC BrainNewTube https://brandnewtube.com/@radiantcreators
RC Brighteon.Social https://brighteon.social/@radiantcreators
RC iTunes https://itunes.apple.com/us/podcast/radiant-creators/id1252852387
RC GAB https://gab.ai/radiantcreators
RC Instagram https://www.instagram.com/radiant_creators/
RC Minds https://www.minds.com/radiantcreators
RC Linkedin https://www.linkedin.com/company/18258547/
RC TuneIn https://tunein.com/podcasts/Media–Entertainment-Podcasts/Radiant-Creators-p1210163/
RC Spotify https://podcasters.spotify.com/podcast/65S8KpqwvPh0b3cREbV9A0/overview
Podcast: Play in new window | Download