About Omega Garden™

The Omega Garden™ is a revolutionary, internationally patented rotary hydroponics system. It's designed with efficiency, simplicity and maximum yield in mind so you can grow your own produce – healthy, bountiful and nutritious – 365 days of the year all from the convenience of an urban setting.
Show Links
Interview – YouTube
https://youtu.be/2n2dzo7ex4s

Interview – Brighteon
https://www.brighteon.com/515f5045-8cd9-48eb-966a-8266a83c057d

Interview – BitChute
https://www.bitchute.com/video/Lx125niiC9lo

Interview – BrandNewTube
https://brandnewtube.com/v/psBG8V

Interview – iTunes
https://itunes.apple.com/us/podcast/radiant-creators/id1252852387
Interview – MP3
Download complete show as an MP3 by right-clicking here and choosing "save as".
Guest Social Media
Website
https://omegagarden.com
LinkedIn
https://www.linkedin.com/in/ted-marchildon-b926ba3
YouTube
https://www.youtube.com/user/farmdominium
Facebook
https://www.facebook.com/ted.marchildon
Media Mentioned During The Show
The Volksgarden® Supra™
Tell the Radiant Creators sent you
https://omegagarden.com/store/#!/The-Volksgarden%C2%AE-Supra%E2%84%A2/p/57798196/category=0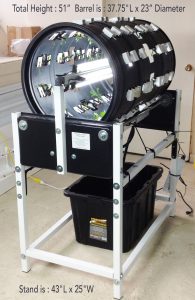 The I Ching, or, Book of Changes
https://amzn.to/3o4i6RI

Radiant Creators Social Media
RC Parler https://parler.com/profile/RadiantCreators/posts
RC YouTube https://www.youtube.com/channel/UCOFOzbsnnBIhsIWPTnh6Dpg
RC SoundCloud https://soundcloud.com/user-147099024
RC Brighteon https://www.brighteon.com/channel/radiantcreators
RC Brighteon.Social https://brighteon.social/@radiantcreators
RC Facebook https://www.facebook.com/RadiantCreators/
RC iTunes https://itunes.apple.com/us/podcast/radiant-creators/id1252852387
RC Twitter https://twitter.com/RadiantCreator
RC GAB https://gab.ai/radiantcreators
RC Instagram https://www.instagram.com/radiant_creators/
RC Minds https://www.minds.com/radiantcreators
RC BitChute https://www.bitchute.com/channel/tYQMEpPQs7qw/
RC Linkedin https://www.linkedin.com/company/18258547/
RC TuneIn https://tunein.com/podcasts/Media–Entertainment-Podcasts/Radiant-Creators-p1210163/
RC Spotify https://podcasters.spotify.com/podcast/65S8KpqwvPh0b3cREbV9A0
Podcast: Play in new window | Download