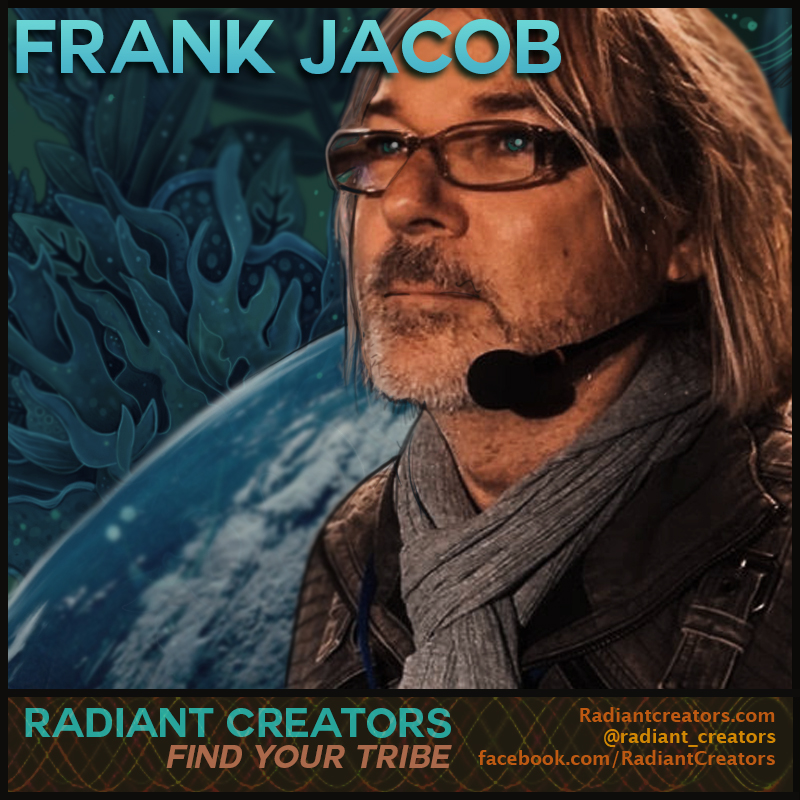 About Frank Jacob
Frank Jacob is a film and commercial TV production executive, an award-winning filmmaker, editor and visual artist. His most recent work was as director, producer and executive producer of the first ever outsourced GAIA TV Production 'Timeless'. He was the writer and director of the feature documentary PACKING FOR MARS, which won the 'People's Choice' award at the 2016 EBE Film Festival. He is also a music producer and composer, and was producer and supervising editor for Series 2 and 3 of the hit Red Bull show 'Ultimate Rush'.
With solid, hands-on international production experience covering many years, Frank is an expert in virtually all aspects of the production and post-production chain, in film, TV, and music.
Known for his enigmatic approaches, Jacob has visually realized many different subjects that would not ordinarily find their way into the audio-visual medium. This has included an audio-visual exploration of blindness called 'Beating Darkness' for Austrian vision researcher Michaela Velikay-Parel, an after-life 'Video Epitaph' depicting the work of deceased architect Herwig Illmaier, and an annual report in the form of an audio/visual narrative entitled 'Information Is Art', which he performed live in 2007 with cellist Katharina Feldbacher at Carnegie Hall for the influential 'American-Austrian Foundation', an off-shoot of the world-renowned 'Doctors Without Borders'.
Other highlights have included a first-of-its-kind 'live cinema' feature entitled 'LOOP Live Cinema', where musical stage performances were orchestrated in tandem with dynamic visual sequences projected as dramatic narratives. He was invited to conceive and perform a unique live cinema spectacle, in January 2010, in collaboration with a 65-piece symphony orchestra in Salzburg, the birth town of Mozart.
Jacob is a director and producer of the feature documentary 'SOLAR (R)EVOLUTION', which won 'Best Feature' at the 2013 EBE Awards, and the award for 'Best Consciousness Film of 2013' at the New Realities and META Center Spiritual Film Festival in New York City. Source: https://www.linkedin.com/in/jacobmedia/
Interview YouTube
https://www.youtube.com/live/OnQUgvnMT3o

Interview Rumble
https://rumble.com/v2he1tu-frank-jacob-light-activists-choose-your-timeline.html

Interview Odysee
https://odysee.com/@Radiant_Creators:c/Frank-Jacob—Choose-Your-Timeline:8

Interview Brighteon
https://www.brighteon.com/9f0d1bcc-9e21-4e41-a33b-acea0e9aadd8

Interview Bitchute (4 Parts)
(1 of 4) https://www.bitchute.com/video/B8Ppgms8dgdL/
(2 of 4) https://www.bitchute.com/video/zl076x5GPI2I/
(3 of 4) https://www.bitchute.com/video/yh6FlkhHPC52/
(4 of 4) https://www.bitchute.com/video/LtVebB5qtSyD/
Interview Amazon
https://music.amazon.com/podcasts/b412dcbc-5a25-4680-acc3-a3b311d83e01/episodes/783df2d3-60e0-453c-b2fc-ce5c06475281/radiant-creators-frank-jacob-%E2%80%93-light-activists-choose-your-timeline

Interview Audible
https://www.audible.com/pd/ITEM_NAME-Podcast/B0C1XTGKPN?action_code=ASSGB149080119000H&share_location=pdp
Interview – iTunes
https://podcasts.apple.com/us/podcast/frank-jacob-light-activists-choose-your-timeline/id1252852387?i=1000608224706
Interview – MP3
Download complete show as an MP3 by right-clicking here and choosing "save as".
Frank Jacob Social Media & Media
Website
https://frankjacob.com/
YouTube
https://www.youtube.com/@Frank_Jacob/videos
LinkedIn
https://www.linkedin.com/in/jacobmedia/
Facebook
https://www.facebook.com/frankjacob
CYBERHIVE.TV
https://www.cyberhive.tv/community/home
Introduction to a Tale of Two Timelines
Not sure what you are getting into? In this VIDEO INTRODUCTION Frank Jacob gives you a 5 min synopsis of the material covered in the webinar everyone's raving about.
Related Media
New from Frank Jacob 4/26/23 Cosmic Awakening Live 2023
https://www.youtube.com/watch?v=MukEuOeiRYo&t=19085s
Guardians Of The Looking Glass Info on INSPIRED with Frank Jacob (YouTube Playlist)
https://www.youtube.com/playlist?list=PLmHtncyCAMXtgbV7L7bUzmf9VEqs8BThB
(Who Are) Guardians of the Looking Glass?
– YouTube Channel https://www.youtube.com/@guardiansofthelookingglass2322
Schumann and Space Weather Mega-Storm.
ALL MEASURING STATIONS STOPPED WORKING! 
https://youtube.com/shorts/8WOVGs6l5Yo?feature=share
Live Schumann
https://www.disclosurenews.it/schumann-resonance-today-update/
The Doctrine of the Convergent Timeline Paradox  
https://www.bibliotecapleyades.net/dan_burisch/esp_dan_burisch_29.htm 
Dale Brunsvold – Rudolf Steiner Audio – Evolution Of Consciousness
https://radiantcreators.com/2020/03/12/dale-brunsvold-rudolf-steiner-audio-evolution-of-consciousness/
Duncan Laurie – The Secret Of Inspired Art And Radionics Part 1
https://radiantcreators.com/2020/08/26/duncan-laurie-the-secret-of-inspired-art-and-radionics/
"You have to forget about what other people say, when you're supposed to die, or when you're supposed to be loving. You have to forget about all these things. You have to go on and be crazy. Craziness is like heaven." ~ Jimi Hendrix
When we raise ourselves through meditation to what unites us with the spirit, we quicken something within us that is eternal and unlimited by birth and death. Once we have experienced this eternal part in us, we can no longer doubt its existence. Meditation is thus the way to knowing and beholding the eternal, indestructible, essential centre of our being. ~ Rudolf Steiner
Radiant Creators Social Media
RC YouTube https://www.youtube.com/channel/UCOFOzbsnnBIhsIWPTnh6Dpg
RC Rumble https://rumble.com/user/radiantcreators
RC Odysee https://odysee.com/@Radiant_Creators:c
RC BitChute https://www.bitchute.com/channel/tYQMEpPQs7qw/
RC Brighteon https://www.brighteon.com/channel/radiantcreators
RC Audible https://www.audible.com/pd/Radiant-Creators-Podcast/B09WZ8WGNZ
RC Brighteon.Social https://brighteon.social/@radiantcreators
RC iTunes https://itunes.apple.com/us/podcast/radiant-creators/id1252852387
RC GAB https://gab.ai/radiantcreators
RC Instagram https://www.instagram.com/radiant_creators/
RC Minds https://www.minds.com/radiantcreators
RC Linkedin https://www.linkedin.com/company/18258547/
RC TuneIn https://tunein.com/podcasts/Media–Entertainment-Podcasts/Radiant-Creators-p1210163/
RC Spotify https://podcasters.spotify.com/podcast/65S8KpqwvPh0b3cREbV9A0/overview
Podcast: Play in new window | Download