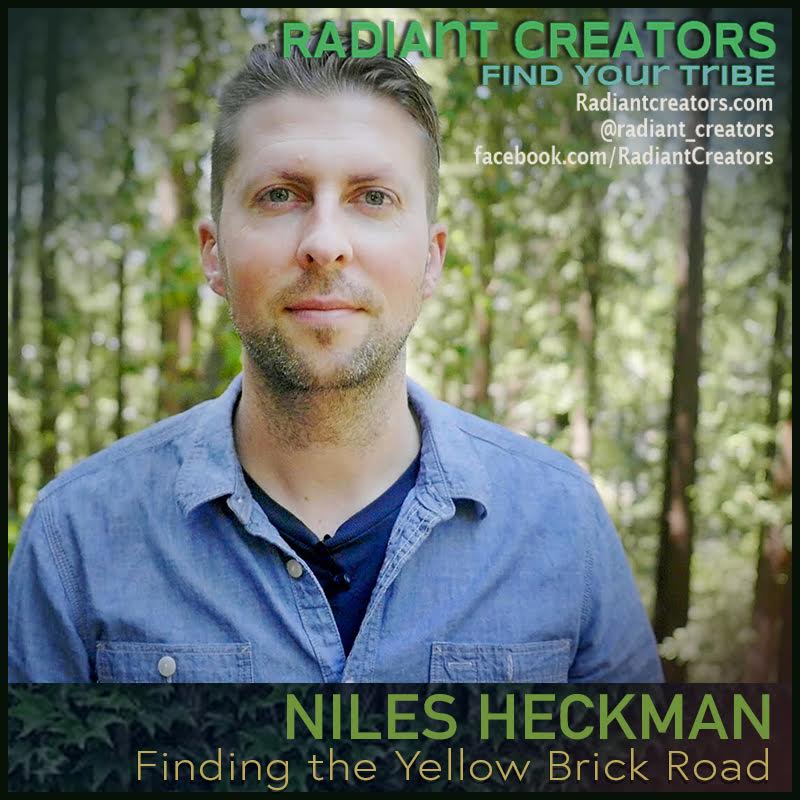 About Niles Heckman
Niles Heckman is a documentarian who's work focuses around themes of naturalism, occultism, and esotericism. He is the director of the feature film Transmutation, the documentary series Shamans of the Global Village, and a series of short-form documentary narrations. He shares insights in his films, writings, podcast, mentorships with others, alternate media appearances, and his photography blog Philosophical Photography – All of which are produced independently and can be found at nilesheckman.com.
We talk about all these topics and more!
The evolving personal Bio (biography)
Technical and eclectic editing sound and video
Reading "The Matrix" code
The democratization of technology
"A jack of all trades is a master of none, but oftentimes better than a master of one"
Street photography and capturing the sweetness of life
Taking responsibility for every aspect of a creative life
"There is a difference between knowing the path & walking the path" ~ Morpheus
Finding the Yellow Brick Road of authentic life
The equal value of every creative act
Finding what interest you and doing it may lead to an income stream
Show Links
Interview – SoundCloud

Interview – YouTube
https://youtu.be/vBxL2Jbd4ik
Interview – BitChute
https://www.bitchute.com/video/13KuIVdBXGVo
Interview – iTunes
https://itunes.apple.com/us/podcast/radiant-creators/id1252852387
Interview – iHeartRadio
https://www.iheart.com/podcast/966-Radiant-Creators-29418059/
Interview – Spreaker
https://www.spreaker.com/show/radiant-creators
Interview – MP3
Download complete show as an MP3 by right-clicking here and choosing "save as".
Content Mentioned During Interview
Shamans of the Global Village
https://www.shamansoftheglobalvillage.com
Shamans of the Global Village is an independently produced documentary series focusing on indigenous entheogenic medicines and the Western shamanic resurgence.
Transmutation
https://www.transmutationfilm.com
DISCOVER THE BEAUTY AND DANGER OF A HIDDEN SPIRITUAL PATH, AND MEET THOSE WHO HAVE TRANSFORMED THEMSELVES BY WALKING IT.
Niles Heckman Essay: Reason for Being
https://www.nilesheckman.com/blog/2018/10/11/reason-for-being
Niles Heckman Essay: Childish Asleep Robots
https://www.nilesheckman.com/podcast/2018/9/17/essay-childish-asleep-robots
Invisible Empire (We mention "Empire" in the interview, for a definition check this out)
http://neilkramer.com/invisible-empire/
In discussing matters of society, politics, climate, war, education, and such like – the substance of the conversation is fundamentally determined by the participants' cognizance of Empire. Without knowledge of Empire, the veracity of any discourse is severely restricted. As an exercise in grasping the gulf between Imperially conditioned responses and free-thinking observations, I drew […] Read more
Matrix / Matrix Reloaded / Matrix Revolutions
https://amzn.to/2Q4rsPb
Full audio and text of Neville Goddards Spiritual Classic Feeling Is The Secret
https://www.feelingisthesecret.org/
Neville Goddard: The Essential Collection
https://amzn.to/2DIRCkL
Neville Goddard : Andrew (the breathing technique to manifest)
https://youtu.be/rkDUdaXVFsw
Follow The Yellow Brick Road – The Wizard Of Oz
https://youtu.be/THbY7EL8k5w
Niles Heckman Social Media
YouTube
https://www.youtube.com/channel/UC1D2NvW5aZl0ubu4PJBbx4Q
Website
https://www.nilesheckman.com
Vimeo
http://vimeo.com/nilesheckman
Medium
https://medium.com/@nilesheckman
Facebook
https://www.facebook.com/nilesheckman
Twitter
https://twitter.com/nilesheckman
https://twitter.com/ShamansGV
Instagram
https://www.instagram.com/nilesheckman/
Follow Radiant Creators for more!
RC SoundCloud
RC Facebook
RC iTunes
RC Twitter
RC GAB
RC Instagram
RC Minds
RC BitChute
RC Linkedin
RC Google+
RC iHeartRADIO
RC Spreaker
Podcast: Play in new window | Download