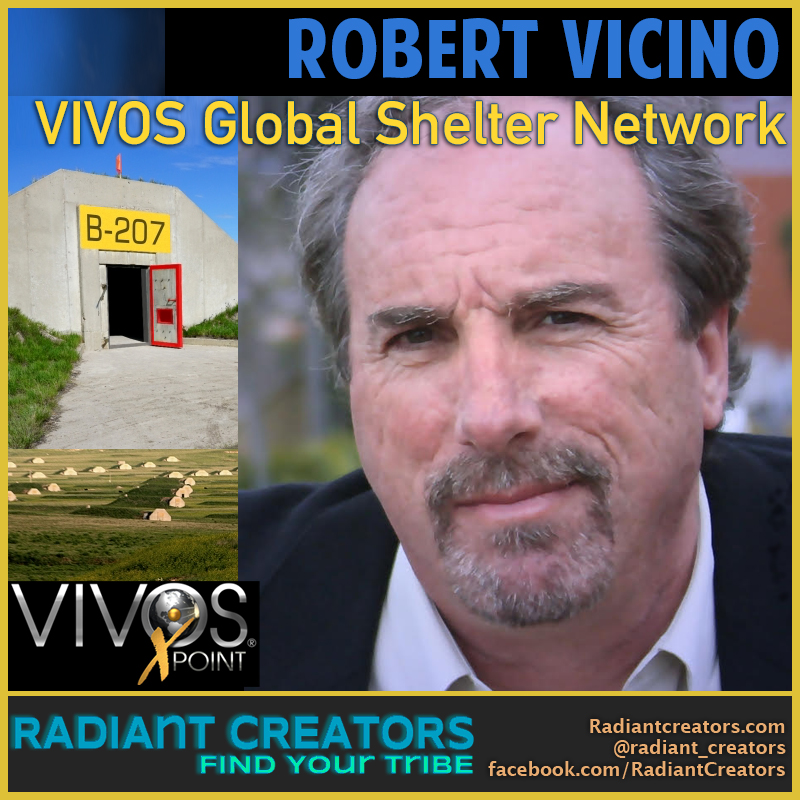 About Guest
The Vivos Project is headed by Robert Vicino, an entrepreneur with a global history of success in manufacturing, marketing and real estate development. In 1980, Robert was inspired to build a shelter for 1,000 people, deep underground to protect us from a coming life-extinction event. That was 35 years ago, but it was so vivid and compelling, that he dropped everything and started looking for an underground cave or abandoned mine that could be hardened to create a shelter of massive proportions, to save as many people as he could.
Robert was not very religious at the time, did not know who the Mayans were and had no other motivation or cause to be alarmed – just a very strong inspiration, that he now believes was from God. In his young 20's, Robert was already very successful with nearly 100 employees. What he quickly learned was that the world wasn't ready to hear, or consider this 'doomsday' concern. That was true until 2008, when he mentioned it, once again to a small group of friends. Their reaction was, "It is time, the world is on the verge and people are ready."
In 2008, the Vivos project was officially launched as a privately funded venture to provide a life-assurance shelter solution for as many people as possible in the face of virtually any catastrophe. Now, with the conviction that this was his true mission, clearly inspired, either fortunately, or unfortunately, because he had the unique skill set to get it done. What a huge responsibility, sticking his neck out for ridicule, and investing years of his life and savings to save others.
He now accepts that responsibility with great humility and gratitude that he can, together with a team of experts in engineering, architecture, construction, medicine, psychology, healthcare, nutrition, law, the constitution, finance, management, logistics, manufacturing, security and self defense, each dedicated to bring the Vivos network to reality around the world.
Source: https://www.terravivos.com/secure/management.htm
Show Links
Interview – YouTube
https://youtu.be/K1SwmeC27AI

Interview – BitChute
https://www.bitchute.com/video/fry4LBRS4Ox2
Interview – iTunes
https://itunes.apple.com/us/podcast/radiant-creators/id1252852387
Interview – MP3
Download complete show as an MP3 by right-clicking here and choosing "save as".
Media Mentioned During Show
Will to Live: Dispatches from the Edge of Survival
https://amzn.to/2NorEqQ
Survive! Ultimate Edition
https://amzn.to/33UdROo
Les Stroud – Survivorman – "Cultivating a Creative, Passionate and Inspired Life"
https://radiantcreators.com/2017/12/11/les-stroud-survivorman-cultivating-a-creative-passionate-and-inspired-life/
COSMIC DISASTER | CIA: Classified
https://youtu.be/B_zfMyzXqfI
Ben Davidson of Suspicious Observers – Space Weather & 12,000 Year Cataclysm Cycles
https://radiantcreators.com/2019/04/28/ben-davidson-of-suspicious-observers-space-weather-12000-year-cataclysm-cycles/
The Fog Of War
https://youtu.be/nU1bzm-BW0o
Lesson #1: Empathize with your enemy.
Lesson #9: In order to do good, you may have to engage in evil.
Lesson #11: You can't change human nature.
Source: https://en.wikipedia.org/wiki/The_Fog_of_War
Full text of Chan Thomas – The Adam And Eve Story – Chapter One: The Next Cataclysm
https://youtu.be/solOeSmQdzw
The Climate Revolution e-book is a 'Must Read' for understanding our Sun driven climate as we progress deeper into the new Eddy Grand Solar Minimum. Weather extremes leading to Global food scarcity and high food prices are here now, and this book describes the expected changes, how to survive & thrive during future challenging times with practical preparations.
Guest Social Media
Website
http://www.terravivos.com
Facebook
https://www.facebook.com/vivos.command
Radiant Creators Social Media
RC YouTube https://www.youtube.com/channel/UCOFOzbsnnBIhsIWPTnh6Dpg
RC Rumble https://rumble.com/user/radiantcreators
RC Odysee https://odysee.com/@Radiant_Creators:c
RC BitChute https://www.bitchute.com/channel/tYQMEpPQs7qw/
RC Brighteon https://www.brighteon.com/channel/radiantcreators
RC Audible https://www.audible.com/pd/Radiant-Creators-Podcast/B09WZ8WGNZ
RC Brighteon.Social https://brighteon.social/@radiantcreators
RC iTunes https://itunes.apple.com/us/podcast/radiant-creators/id1252852387
RC GAB https://gab.ai/radiantcreators
RC Instagram https://www.instagram.com/radiant_creators/
RC Minds https://www.minds.com/radiantcreators
RC Linkedin https://www.linkedin.com/company/18258547/
RC TuneIn https://tunein.com/podcasts/Media–Entertainment-Podcasts/Radiant-Creators-p1210163/
RC Spotify https://podcasters.spotify.com/podcast/65S8KpqwvPh0b3cREbV9A0/overview
Podcast: Play in new window | Download