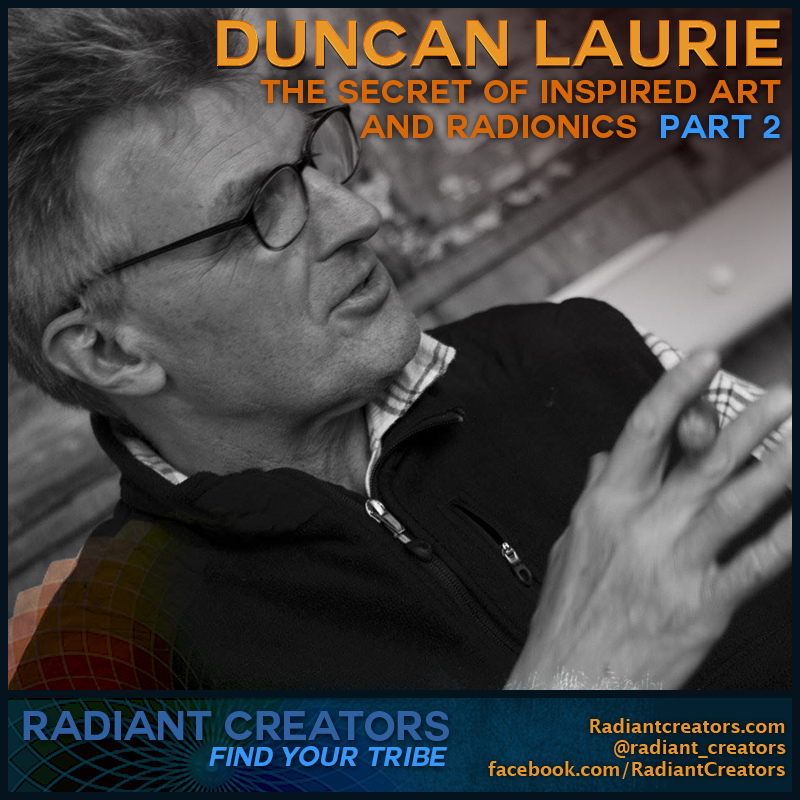 Biography
DUNCAN LAURIE has undergraduate and graduate degrees in art from the University of Pennsylvania. From the mid 1970s to the early 2000s he produced architectural glass design commissions for a wide variety of individuals and businesses while living in New York City and Jamestown, Rhode Island. His clients include Blackrock Financial Management, 9 West, Milbank Tweed Hadley & McCloy, Citicorp Executive Center, Anne Klein II, Electra Records, Estée Lauder, Readers Digest Fund, Lincoln Square N.Y.C., Sky Tokyo, United Overseas Bank Singapore, Lane Crawford Stores, Ratheon Corporation, Capital Cities ABC, and many other individuals and companies throughout the world. In 1980 the late Richard J. Reynolds III introduced Laurie to the world of alternative technology and inventors. Thus began a learning curve whereby the world of art and subtle energy technology slowly began to reveal their commonalities of function and purpose. More
Our interview in part focuses on Duncans book:
THE SECRET ART: A Brief History of Radionic Technology for the Creative Individual traces this astonishing process beginning with early art designs suggestive of radionic intent. For many prehistoric and indigenous peoples, art was also a means of interacting with Nature to enhance healing, increase crop yields, and enable visionary experiences. Coincidentally, radionic inventors discovered by trial and error that even drawings and bizarre technology could function radionically. This discovery followed a long process of design innovation that started with mechanical devices, proceeded through a generation of electronic instruments, and most recently has been applied to computer and software technology. Conceivably, the theory and techniques outlined in this book could provide artists with a revolutionary approach to the creative process that is at once both new and timeless. A potential exists today for radionic ideas to empower creative individuals to develop skills in working with Nature that achieve profound real world results.
Radionics, an alternative healing technology, is explored as a methodology for visual art and design. Radionically based tools and techniques are presented that lend themselves to experimental art and multi-media praxis.
The history of radionics is the story of how various inventors designed devices that employ directed intent to affect the real world. With these tools, they promoted healing without pills or surgery, grew crops without fertilizer, restrained insect predation without pesticides, and performed a host of other seemingly impossible feats that defy mechanistic science.
Show Links
Interview – YouTube
https://youtu.be/wegZO5yR6pQ

Interview – Brandnewtube
https://brandnewtube.com/v/91UPBb
Interview – BitChute
https://www.bitchute.com/video/pxws38IdZSb0

Interview – Brighteon
https://www.brighteon.com/be215559-720d-48b5-9cc1-d0f83195d26f

Interview – iTunes
https://itunes.apple.com/us/podcast/radiant-creators/id1252852387
Interview – MP3
Download complete show as an MP3 by right-clicking here and choosing "save as".
Social Media
Website
https://www.duncanlaurie.com
Facebook
https://www.facebook.com/DragonlineStudios
SoundCloud
https://soundcloud.com/duncanlaurie
Vimeo
https://vimeo.com/duncanlaurie
Media Mentioned During Interview
The Secret Art: A Brief History of Radionic Technology for the Creative Individual
https://amzn.to/2QtmfyU
Gregg Museum artist talk, Duncan Laurie
https://youtu.be/0lKFPNQeHNQ
Rockstar (Rock – Responds to Touch)
https://youtu.be/PXuDi_2dbR8
Dragonline Big Rock Maine 110907 (on SoundCloud)
https://soundcloud.com/duncanlaurie/dragonline-big-rock-maine
Sounds derived from a large granite stone, part of the ancestral home in Jamestown, Rhode Island. Copper leads were affixed to the stone with molten zinc from a thermal arc sprayer. "The stone proved very active that evening, providing us with a long, uninterrupted recording opportunity, especially in the area of 7-9Hz, the area of the Earth's resonant frequency.
Radiant Creators Social Media
RC Parler https://parler.com/profile/RadiantCreators/posts
RC YouTube https://www.youtube.com/channel/UCOFOzbsnnBIhsIWPTnh6Dpg
RC SoundCloud https://soundcloud.com/user-147099024
RC Brighteon https://www.brighteon.com/channel/radiantcreators
RC Facebook https://www.facebook.com/RadiantCreators/
RC iTunes https://itunes.apple.com/us/podcast/radiant-creators/id1252852387
RC Twitter https://twitter.com/RadiantCreator
RC GAB https://gab.ai/radiantcreators
RC Instagram https://www.instagram.com/radiant_creators/
RC Minds https://www.minds.com/radiantcreators
RC BitChute https://www.bitchute.com/channel/tYQMEpPQs7qw/
RC Linkedin https://www.linkedin.com/company/18258547/
RC TuneIn https://tunein.com/podcasts/Media–Entertainment-Podcasts/Radiant-Creators-p1210163/
RC Spotify https://podcasters.spotify.com/podcast/65S8KpqwvPh0b3cREbV9A0
Podcast: Play in new window | Download