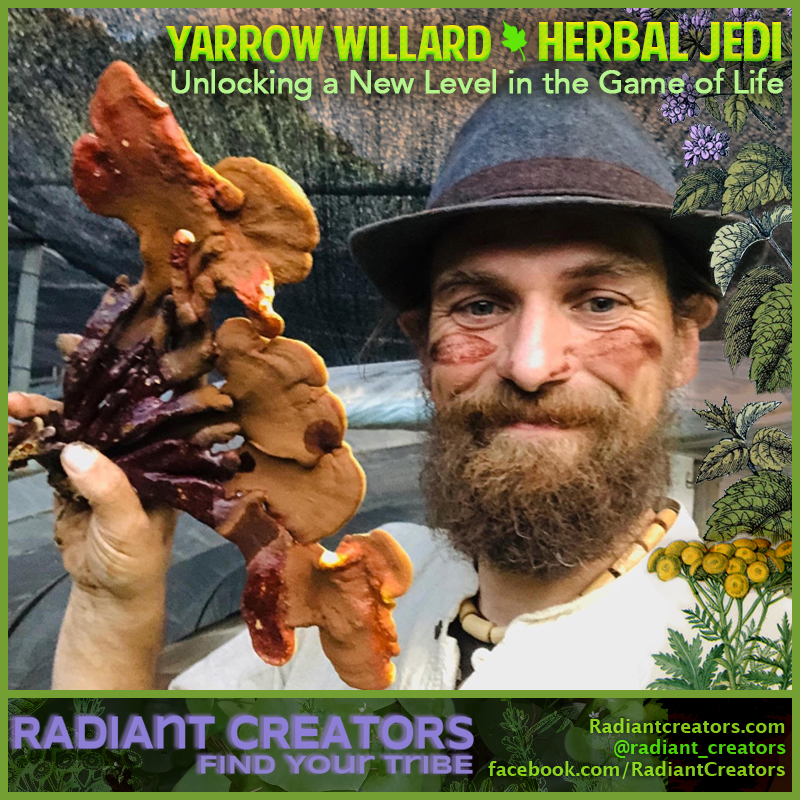 About Guest
Yarrow Willard is a Master Herbalist, and a co-visionary of Harmonic Arts. Yarrow enjoys sharing health-empowering teachings on advanced nutrition, and cultivating a deeper connection with the natural world. He strives to continually update his knowledge in the growing-edge science of natural wellness. Source: https://harmonicarts.ca/pages/about-us
Show Links
Interview – YouTube
https://youtu.be/jqlv9qpIC8g

Interview – SoundCloud
https://soundcloud.com/user-147099024/yarrow-willardherbal-jedi-unlocking-a-new-level-in-the-game-of-life

Interview – Brighteon
Processing
Interview – BitChute
Processing
Interview – iTunes
https://itunes.apple.com/us/podcast/radiant-creators/id1252852387
Interview – MP3
Download complete show as an MP3 by right-clicking here and choosing "save as".
Content Mentioned During Interview
You are the Hero
https://youtu.be/1NOiHxtdURo

Guided Wim Hof Method Breathing
https://youtu.be/tybOi4hjZFQ

Wim Hof breathing Mini-Course (FREE)
https://www.wimhofmethod.com/free-mini-class
Robert Young Pelton – Dawn Of The "Neo-Pioneer American" Think Locally Act Locally
https://radiantcreators.com/2020/04/13/robert-young-pelton-dawn-of-the-neo-pioneer-american-think-locally-act-locally
John Hickman / Primitive Ways  – Doorway To The Earth
John Hickman creator of the Primitive Ways YouTube channel is a true Neo-Aboriginal. In this interview we talk about the confidence primal survival skills create. We documented some "Neo-Aboriginal / Natural Human Training".
https://radiantcreators.com/2020/04/26/john-hickman-primitive-ways-doorway-to-the-earth/
Previous Radiant Creators Interview With Herbal Jedi
Interview With Yarrow Willard/Herbal Jedi – Embracing Natures Wisdom For Radiant Health
https://radiantcreators.com/2019/01/02/interview-with-yarrow-willard-herbal-jedi-embracing-natures-wisdom-for-radiant-health
Guest Social Media
Harmonic Arts Website: www.harmonicarts.ca
Herbal Jedi Blog: http://yarrowwillard.com
YouTube: http://www.youtube.com/subscription_center?add_user=TheHarmonicArts
Instagram: http://instagram.com/herbal_jedi
Facebook: http://facebook.com/harmonicarts
Pinterest: http://pinterest.com/harmonicarts
Twitter: http://twitter.com/harmonic_arts
Follow Radiant Creators for more!
RC YouTube https://www.youtube.com/channel/UCOFOzbsnnBIhsIWPTnh6Dpg
RC SoundCloud https://soundcloud.com/user-147099024
RC Brighteon https://www.brighteon.com/channel/radiantcreators
RC Facebook https://www.facebook.com/RadiantCreators/
RC iTunes https://itunes.apple.com/us/podcast/radiant-creators/id1252852387
RC Twitter https://twitter.com/RadiantCreator
RC GAB https://gab.ai/radiantcreators
RC Instagram https://www.instagram.com/radiant_creators/
RC Minds https://www.minds.com/radiantcreators
RC BitChute https://www.bitchute.com/channel/tYQMEpPQs7qw/
RC Linkedin https://www.linkedin.com/company/18258547/
RC TuneIn https://tunein.com/podcasts/Media–Entertainment-Podcasts/Radiant-Creators-p1210163/
RC BitBacker https://bitbacker.io/user/radiantcreators/
RC Spotify https://podcasters.spotify.com/podcast/65S8KpqwvPh0b3cREbV9A0
Podcast: Play in new window | Download